"To the one who sits on the throne and to the Lamb be blessing and honor, glory and might, forever and ever."
We owe all we have, our dear souls, to Jesus Christ. As examples of living and dying through Him we must honor his sacrifice. God wants our lives to overflow with mercy and generosity for each other; to share love just as He did with us through Christ's presence on Earth. Christ is the Gentle Lamb who gave up His life for us. He asks today and every day that we reflect:
"Do you love me?"
"Do you love me?"
"Do you love me?"
Then we must love Christ through our love for each other. As fishers of men, inspired by His Holy Spirit, we have a responsibility to dedicated time to God in prayer which will prompt the conversion of our hearts and strengthen our wills to follow Christ (CCC #2708), to constantly give back and feed His sheep, whether strangers or closest of family. Do you love Him? Then who will you bring with you to meet Him at the gates of Heaven? Who have you modeled His compassion for? Because He offered mercy to us, we should also offer Mercy to one another.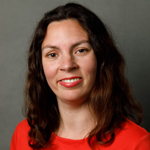 Dr. Alexis Dallara-Marsh is a board-certified neurologist who practices in Bergen County, NJ. She is a wife to her best friend, Akeem, and a mother of two little ones on Earth and two others in heaven above.
Feature Image Credit: saracrl, https://www.cathopic.com/photo/19359-jesus-confio-ti