As Catholics, we strive to live in a manner that will grant us entrance into God's Kingdom of Eternal Glory, but how do we do that? It goes far beyond holding the door open for strangers and going to Mass every Sunday. It goes far beyond baptizing your children and praying before meals. Quite honestly, the idea of working towards heaven can be daunting, as it feels as though only perfection can truly guarantee entrance. Yet it is not perfection that God expects from us, but a deep relationship with him.
In today's Gospel, Jesus gives us two foundational sentences with which to guide our spiritual lives. First, Jesus says that he is "the way and the truth and the life," giving us our first clue on how to get to heaven. We are humans, and as we see from the first chapter of Genesis, we are not perfect in nature. Second, he says that whatever we ask in his name, he will do (John 14:14). As I mentioned, God does not expect perfection. What he wants is for us to truly know and love him, and he will listen.
How great is that? How great is our God that he chose not only choose to allow us free will, but to allow us to have a personal relationship with him? He allows us to have conversations with him where we can thank him, ask him for help, and just tell him about our days. Plus, we know our voices don't just fall on deaf ears. Even when we don't think he is listening, it may just be that we are the ones that must stop and listen. With this kind of relationship, one so eternally forgiving and loving, why would we not want to deepen our relationship?
Jesus is the way we should live, because he lived as a human like you and me, walking the tightrope between good and evil. His way is one of hardships and giving your life in order to receive everlasting life. Jesus is the truth because He is the Son of God who came to earth in order that we may have a deeper connection with our creator. It is through having a relationship with our Lord that we are able to know the truth, to know peace, and to know love. Jesus is the life because it is only through Christ that we are able to come to the Father and, therefore, come to know everlasting life.
If Jesus is the way and the truth and the life, then why are we not following his example? Why have we allowed ourselves to stray from the path, to believe the lies, to stay stagnant in our spiritual growth? God is not asking us to be perfect, but we shouldn't just stop trying. Brothers and sisters, this is my reminder to you that we are given the gift of communication with our Father as a means to grow closer to God and gain entrance to his ultimate home for us. So today, let's begin that conversation with someone that is always willing to listen:
God of light and all that is good, You have given us the gift of prayer as a way to lift our voices to you, so that you may fully know the content of our hearts and minds. We ask that you shine your light on our path when we lose our way. We ask that you shine your light on the truth when we find the lies so convincing. We ask that you shine your light so that we may grow in our relationship with you. We ask all of this through God our Father, God the Son, and God the Holy Spirit.
Amen.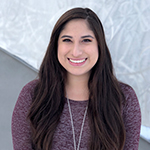 Veronica Alvarado is a born and raised Texan currently living in Michigan. Since graduating from Texas A&M University, Veronica has published various articles in the Catholic Diocese of Austin's official newspaper, the Catholic Spirit, and other local publications. She now works as the Content Specialist in Diocesan's Web Department.