Does anyone else want to just cringe after hearing about all the pruning happening in today's Gospel? "He takes away every branch in me that does not bear fruit and everyone that does he prunes so that it bears more fruit."
It makes me think of taking out splinters or porcupine quills or cactus spines! Ouch!! I know I have vices and shortcomings but I am comfortable with them and I would rather not change. I mean I'm not THAT bad of a person, right?
But Jesus doesn't want us to be "good enough", He wants to perfect us. So splinter by splinter, quill by quill and spine by spine, He wears down our excuses, our faults and our shortcomings with His love and guides us along the way to salvation.
The deeper we allow ourselves to delve into this passage, the more beautiful it becomes: "Remain in me as I remain in you… If you remain in me and my words remain in you, ask for whatever you want and it will be done for you." What a comfort, what a joy, what a relief to remain in God! To remain in His loving embrace, His gentle guidance, His hopeful promise!
When my husband was 17, he had a near-death experience on the operating table during an appendectomy. His heart stopped and his soul hovered over his body in the room for an instant before seeing the light at the end of the tunnel and the silhouette of our beloved Lord. He felt such an indescribable peace, love and joy that he wanted to stay there forever, yet an instant later, his heart was shocked and his soul returned to his body. He experienced, if only for a split second, what it meant to remain in God. And we have the opportunity to do the same with our decisions, our attitudes and our ministries each and every day.
Today we honor St. Athanasius, a man who understood what it meant to remain in God. He was sent to exile many times and endured much persecution because of His unwillingness to believe the Arian heresy. He defended the divinity of Jesus, remaining in His truth, no matter what human suffering it caused. What a great example for us!
So I would like to invite each of you today to allow Jesus to prune and perfect you, no matter how painful it may be, and to remain always in His everlasting love.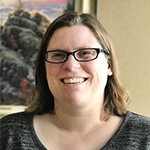 Tami Urcia is wife and mother to her small army of boys. She works full time at Diocesan, a Catholic communication company, and is a freelance translator and blogger (BlessedIsshe.net and Catholicmom.com) She loves tackling home projects, keeping tabs on the family finances, and finding unique ways to love. Tami spent young adulthood as a missionary in Mexico, then worked and traveled extensively before finishing her Bachelor's Degree. Her favorite things to do are spending time outside with the kiddos, quiet conversation with the hubby, and an occasional break from real life by getting a pedicure or a haircut. You can find out more about her here.