It would be easy to go the humility route with the Gospel today, as it is the classic verse about childlike faith. But I want to take a slightly different direction by honing in on the last sentence from today's readings, "their angels in heaven always look upon the face of my heavenly Father." There are many Scriptures that speak about angelic reality, in fact, we even speak to belief in the heavens and earth in the Creed, but there are not very many verses that explicitly point to the belief that every person has a guardian angel.
Many don't know that this teaching is actually a truth of the faith. "From its beginning until death, human life is surrounded by their watchful care and intercession. Beside each believer stands an angel as protector and shepherd leading him to life. Already here on earth the Christian life shares by faith in the blessed company of angels and men united in God." -CCC 336
An angel is a purely spiritual being who is a messenger of God. All throughout the Scriptures we hear about angels being active in helping to accomplish God's will. The beauty that the Gospel reveals today is that they see God face to face and at the same time help us in this life. Think about how we pray to saints. Of course we do not believe that saints by their own power are helping us, but God by his power allows them to participate in his will. So when we pray to a saint or angel, those prayers become even more efficacious since the prayers of the righteous man are efficacious, as we hear in Scripture.
I grew up praying the guardian angel prayer, but never fully realized the depth of what was happening. Imagine for a second a spiritual battle between the good and fallen angels. Your soul is the object of this fight and your guardian angel, thankfully, has the power of God on their side. Take just a moment today to reflect on the depth of that. God loves us so much that he not only walks with us through everything, but he also has angels and the saints walk with us as well to help us in our spiritual growth. If you haven't prayed the guardian angel prayer in a while, take just a few moments and ask your guardian angel for their intercession.
Angel of God, my guardian dear, to whom God's love commits me here, ever this day, be at my side, to light and guard, rule and guide. Amen.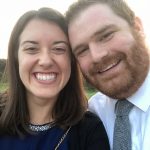 Tommy Shultz is the Founder/Director of Rodzinka Ministry and a content specialist for Ruah Woods, a Theology of the Body Ministry. In these roles, he is committed to bringing all those he meets into a deeper relationship with Christ. Tommy has a heart and flair for inspiring people to live their faith every day. He has worked in various youth ministry, adult ministry, and diocesan roles. He has been a featured speaker at retreats and events across the country. With a degree in Theology from Franciscan University, Tommy hopes to use his knowledge to help all people understand the beauty of The Faith.
Feature Image Credit:Annalisa Bellini, https://unsplash.com/photos/sn-Qmo6CCIM