Happy Easter! I love how we celebrate during the Octave and continue on to Pentecost.
In both Acts and Mark's Gospel passage for today we find belief and unbelief. Mark tells us that Jesus revealed Himself to Mary Magdalen and two others and their response is to go to the others who are mourning and tell them about seeing Jesus; yet they do not believe. Jesus then takes matters into His own hands and appears to them; he "rebuked them for their unbelief and hardness of heart," (Mark 16:14). I can see this scene in my mind. I can hear these words being directed toward me.
Now, when I rebuke a person, I am often harsh and my face shows the emotions I feel – anger, disappointment, annoyance. That is not what I see when Jesus stands and rebukes. On his face I see an invitation, a reminder, the gentle correction of the One who loves me to death and hurts because I am not with him. Is he annoyed? Maybe, but the overriding sense I have is one of sorrow because I have turned from him. I repent, not out of fear but out of love.
And in that repentance, I find the courage to do as Peter and John, to tell others about Jesus and all he has done for me and all he wants to do for everyone. We are not given the gift of belief and faith to keep it to ourselves. Mary did not go back to the apostles to tell them about Jesus to make herself important. She does it to ease their pain but also because she could not encounter the Lord and keep it to herself. Do you keep your encounters to yourself? I am going to encourage you, no – challenge you – to stop keeping your faith to yourself. When you are given answers to prayer, when your life moves in a way that can only be God it is imperative that we tell others.
And each of us will do this in the way that is in keeping with our nature. It may be difficult or awkward at first but keep at it. The Good News is meant to be shared as Jesus tells us, "Go into the whole world and proclaim the gospel to every creature," (Mark 16:15).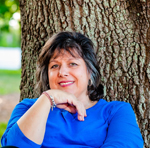 Deanna G. Bartalini, M.Ed.; M.P.A., is a certified spiritual director, writer, speaker and content creator. The LiveNotLukewarm.com online community is a place to inform, engage and inspire your Catholic faith. Her weekly Not Lukewarm Podcast gives you tips and tools to live out your faith in your daily life.
Feature Image Credit: Aaron Burden, https://unsplash.com/photos/7oJ3O6pk10s