"Do not complain, brothers and sisters, about one another, that you may not be judged." (James 5:9)
The first line of today's first reading hit me like a rock right between the eyes. I consider myself one of the world's worst offenders in this department. I'm such a groaner! When someone doesn't think like I do, or act the way I think they should, or dress in a certain way or rubs me the wrong way, I complain to my close-knit circle. But what does complaining have to do with judging? Complaining often turns to criticizing and criticizing to judging. It's a vicious circle.
One Lent, instead of giving up sweets or coffee, I decided to give up complaining. Let me tell you, I spent a lot of time in silence! It was one of my most challenging Lents. I never would have fathomed how often I would have to bite my tongue. It helped me to realize how I was called to follow the example of our Lord to be "kind and merciful." (Psalm Response)
This is the first year my husband and I have had a child attend school and it has been a whole new venture for us. We have learned so much, but one of my favorite things has been the school motto: "Be Fair, Be Safe, Be Kind". Not only have I been able to use it as a teaching tool with my preschooler, but I have repeated it to myself over and over again as well. So often I have to remind myself to be kind. And kindness doesn't only mean biting my tongue or not criticizing, it also means stepping out of the bounds of my complacency and giving that compliment or flashing that smile or voicing that exuberant "thank you".
It takes a significant effort to forgo complaining and be kind, but no one ever said it would be easy to follow Christ on the straight and narrow path. We make that choice because we love Him and because we long to spend all eternity with Him. So upward and onward, my friends!
"Merciful and gracious is the Lord,
Slow to anger and abounding in kindness…
As the heavens are high above the earth,
So surpassing is his kindness…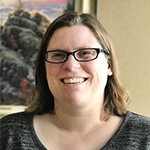 Tami Urcia is wife and mother to her small army of boys. She works full time at Diocesan and is a freelance translator and blogger (BlessedIsShe.net and CatholicMom.com) She loves tackling home projects, keeping tabs on the family finances, and finding unique ways to love. Tami spent early young adulthood as a missionary in Mexico, then worked and traveled extensively before finishing her Bachelor's Degree. Her favorite things to do are spending time outside with the kiddos, quiet conversation with the hubby, and an occasional break from real life by getting a pedicure or a haircut. You can find out more about her here.