Do you ever feel like you are in a time of plenty, but simultaneously in a time of drought? We are in the midst of the Easter season, flowers are blooming, the sun is shining, the school year is coming to a close, and yet we are dragging…
My family has been struggling through yet another period of illness. Fevers, incessant coughs, ear infections, pink eye, snotty noses, you name it. We just keep passing germs from one to the other to the other. I just started a new job and have already had to go to the doctor four times. We have missed out on receiving our Lord three weeks in a row because we are hacking up a lung (slight exaggeration).
Yet we are Easter people, and Alleluia is our song. We rejoice through the trials because there is always something positive to rejoice over. There are always milestones to celebrate. The baby is getting her first teeth and standing up. The boys are doing well in soccer and scoring goals. My husband is gaining recognition in his video show.
But above all I am rejoicing because the people and the mission of my new workplace are bringing me closer to God. We pray together each morning, lift up our individual intentions and praise God for His blessings. Then we each go about our day trying to bring Christ to each person we encounter. It is truly beautiful.
Each day we can imitate the first disciples, like Paul and Barnabas in today's First Reading who spoke out boldly: " For so the Lord has commanded us, I have made you a light to the Gentiles, that you may be an instrument of salvation to the ends of the earth." What a great reminder to us of what we are called to do each and every day! To be Christ's hands and feet on this earth until He comes again in His glory.
Just as Jesus states: "The Father and I are one" in today's Gospel, may we also be one with God so as to live with true Easter joy and then share that love and joy with others.
I leave you with today's Psalm, that you may rejoice evermore in Him: "Sing joyfully to the LORD, all you lands; serve the LORD with gladness; come before him with joyful song. Know that the LORD is God; he made us, his we are; his people, the flock he tends. The LORD is good: his kindness endures forever, and his faithfulness, to all generations."
Alleluia!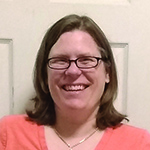 Tami Urcia grew up in Western Michigan, a middle child in a large Catholic family. She spent early young adulthood as a missionary in Mexico, studying theology and philosophy, then worked and traveled extensively before finishing her Bachelor's Degree in Western Kentucky. She loves tackling projects, finding fun ways to keep her little ones occupied, quiet conversation with the hubby and finding unique ways to love. She works at for Christian Healthcare Centers, is a guest blogger on CatholicMom.com and BlessedIsShe.net, runs her own blog at https://togetherandalways.wordpress.com and has been doing Spanish translations on the side for over 20 years.
Feature Image Credit: Tom Podmore, https://unsplash.com/photos/cp-GfZhCXI8