You will remember that just a few days ago, the Gospel for June 18 gave us that famous line from Jesus' Sermon on the Mount, "You cannot serve God and mammon." (Mt 6:24) It's an easily understood concept. To put it in a more modern vernacular, "How can you expect to 'get God' if you're busy trying to 'get stuff'?"
Here we are, 2,000 years later, and the world basically runs on the accumulation of "stuff." We invent stuff, develop stuff, manufacture stuff, grow stuff, buy stuff, sell stuff, collect stuff, service stuff, and dispose of stuff. Cars, electronics, household goods, food, baseball cards, stocks and bonds, money — it's all stuff, and the emphasis on acquiring it is getting in the way of what we're really here for: to know, love and serve God in this world so that we can be with him in the next.
The Church in its wisdom ups the ante with today's Gospel, where Luke tells us about Jesus' journey to Jerusalem, where he will suffer, die and rise — all for us, by the way. It's not the simple "God or stuff" dichotomy. These are real "punch in the stomach" examples today.
When Jesus tells someone, "Follow me," the reply is "Lord, let me go first and bury my father." The Lord's reply is blunt: "Let the dead bury their dead. But you, go and proclaim the kingdom of God."
Another person thinks he has it figured out: "I will follow you Lord, but first let me say farewell to my family at home." See, Jesus? I'm leaving them behind for you. Again, Jesus pushes for more: "No one who sets a hand to the plow and looks to what was left behind is fit for the kingdom of God."
Even in requests that seem reasonable to us, Jesus sees the truth. And that truth is this: God first. Always, always, God first. There can be no compromise. Look at it this way: Your father died and must be buried. What if, in your love for and belief in God, you commend your father to God's mercy, you pray for his soul, you realize that God created him, gave him his life, and knew the moment when it had to end. You thank God for what your father taught you, and you ask God for mercy for yourself, as well.
What if, instead of saying goodbye to your family before following Jesus, you bring your family with you? You teach them of God's greatness, His love, mercy and justice, His only begotten Son who became man, taught us, healed us, suffered for us, died for us, rose again, gave His very self to us in the Eucharist. What if you prayed for them, and asked God to help you guide them to communion with Him?
That plow Jesus talks about is the course of your life. If you're looking back to what was, you're going to have a pretty crooked row. If you keep your focus up front — on God, your life's goal — putting Him first and foremost, the plowing might not be any easier, but it will be heading in the only right direction — straight to God, your ultimate joy.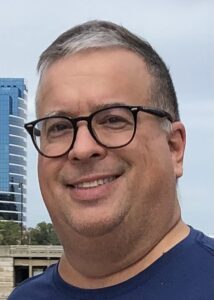 Mike Karpus is a regular guy. He grew up in Michigan's Upper Peninsula, graduated from Michigan State University and works as an editor. He is married to a Catholic school principal, raised two daughters who became Catholic school teachers at points in their careers, and now relishes his two grandchildren, including the 3-year-old who teaches him what the colors of Father's chasubles mean. He has served on a Catholic School board, a pastoral council and a parish stewardship committee. He currently is a lector at Mass, a Knight of Columbus, Adult Faith Formation Committee member and a board member of the local Habitat for Humanity organization. But mostly he's a regular guy.
Feature Image Credit: Mehmet Turgut Kirkgoz, unsplash.com/photos/CXY93X0CwDs