And the course of salvation history changed with our Mother's simple, Yes to God. With time holding no boundaries between her and her Son, Mary exemplifies Thy Will Be Done. A young peasant girl, who would hold in her the epitome of His Grace.
The relationship between this most humble girl and her older cousin is such a powerful moment. Imagine these two women being so genuinely happy, both for each other and for the world. They put others before themselves at all times. Isn't this what God has asked of us, to love and serve one another?
But additionally, Mary places her trust in God at all times. Today, I encourage us all to especially reflect on the last line of our Sunday Gospel.
Blessed are you who believed that what was spoken to you by the Lord would be fulfilled.
How often do we doubt God's magnificent ways? Is He not the LORD of hosts, the all-powerful Ruler over the entire universe? Through His ways, the unthinkable can be achieved.
Let us follow the example of our most humble yet powerful Mother, who changed the world in her infinite love and belief.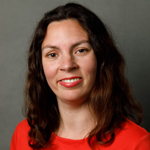 Dr. Alexis Dallara-Marsh is a board-certified neurologist who practices in Bergen County, NJ. She is a wife to her best friend, Akeem, and a mother of two little ones on Earth and two others in heaven above.
Feature Image Credit: Mariocorrea, https://www.cathopic.com/photo/8628-santisima-virgen-maria-rosario