Jesus was "praying in solitude" but the "disciples were with him." This draws an interesting picture and an insight into Jesus' Heart. He is alone but not alone. He needs to pray to the Father in solitude. It is this connection with the Father that keeps him focused on his mission. It is this lifting up of his human heart to the Father that allows him to know and do the Father's will, which is his very "bread," as he says elsewhere (Jn 4:34).
But he cannot always get away from everyone in order to be physically alone, so sometimes the disciples were able to observe him praying (which is why we know it happened). What must this have looked like? And what must the Apostles have thought when he looks at them immediately after this prayer and asks them two questions that he asks us as well: Who do others say that I am? But who do YOU say that I am?
Much has been said about Jesus in the 2000 years since he was crucified and rose from the dead. Some of it has drawn us to appreciate the magnificence of his preaching, the generosity of his life, the humility of his demeanor, or the prodigal love of his Heart. Some of it has focused on chipping away at the veracity of the Gospels, suggesting they are mythologized tales intended simply to encapsulate a universal truth. Some of it has been written to draw us into greater devotion to aspects of Jesus' life and mission and to surrender our own lives to him.
These are things that others say about who Jesus is.
The pivotal question is: What is TRUE about Jesus? The next immediate question is whether we profess that truth about Jesus fully in our hearts and minds and lives.
We can take the answer of Peter – "the Christ of God" – but we must make sure we also accept all that the answer implies. If Jesus IS the Anointed One of God, then we must also profess Him to be the Master, the Light of the world, the Good Shepherd and the Gate, the True Vine, the Way and the Truth and the Life, the Lord of the Universe, the Source of all Holiness, the Redeemer of all Mankind, Incarnate Love, God the Son, the Living Bread come down from Heaven, Fulfillment of every prophesy, the One by Whose stripes we are healed, the Crucified One, the Pierced One, the Risen One, the Bridegroom of the Church, the Eternal High Priest, the Just Judge, the One Who Makes All Things New, and more.
And if Jesus is all these things and more (and he is, and you surely believe it to be true because you are reading this), then what is our right and just response?
---
Jesús estaba "orando en soledad" pero los "discípulos estaban con él". Esto dibuja una imagen interesante y una visión del Corazón de Jesús. Está solo pero no solo. Necesita orar al Padre en soledad. Esta conexión con el Padre es lo que lo mantiene enfocado en su misión. Esta elevación de su corazón humano al Padre es lo que le permite conocer y hacer la voluntad del Padre, que es su mismo "pan", como dice en otro lugar (Jn 4,34).
Pero no siempre puede alejarse de todos para estar físicamente solo, por lo que a veces los discípulos pudieron observarlo orar (por eso sabemos que sucedió). ¿Cómo debe haber sido esto? Y qué habrán pensado los Apóstoles cuando les mira inmediatamente después de esta oración y les hace dos preguntas que también nos hace a nosotros: ¿Quién dice la gente que soy yo? Y USTEDES, ¿quién dicen que soy yo?
Mucho se ha dicho acerca de Jesús durante los 2000 años desde que fue crucificado y resucitó de entre los muertos. Algo de ello nos ha llevado a apreciar la magnificencia de su predicación, la generosidad de su vida, la humildad de su conducta o el amor pródigo de su Corazón. Parte de él se ha centrado en socavar la veracidad de los Evangelios, lo que sugiere que son cuentos mitificados destinados simplemente a encapsular una verdad universal. Parte de él ha sido escrito para llevarnos a una mayor devoción a aspectos de la vida y misión de Jesús y para entregarle nuestras propias vidas.
Estas son cosas que otros dicen acerca de quién es Jesús.
La pregunta fundamental es: ¿Qué es VERDADERO acerca de Jesús? La siguiente pregunta inmediata es si profesamos esa verdad acerca de Jesús plenamente en nuestros corazones, mentes y vidas.
Podemos tomar la respuesta de Pedro – "el Cristo de Dios" – pero debemos asegurarnos de que también aceptamos todo lo que implica la respuesta. Si Jesús ES el Ungido de Dios, entonces también debemos profesarlo como el Maestro, la Luz del mundo, el Buen Pastor y la Puerta, la Vid Verdadera, el Camino y la Verdad y la Vida, el Señor del Universo, Fuente de toda Santidad, Redentor de toda la Humanidad, Amor Encarnado, Dios Hijo, Pan Vivo bajado del Cielo, Cumplimiento de todas las profecías, Aquel por cuyas llagas somos curados, el Crucificado, el Traspasado, el Resucitado, el Esposo de la Iglesia, el Eterno Sumo Sacerdote, el Juez Justo, el que hace nueva todas las cosas, y más.
Y si Jesús es todas estas cosas y más (y lo es, y seguramente crees que es verdad porque estás leyendo esto), entonces, ¿cuál es nuestra respuesta correcta y justa?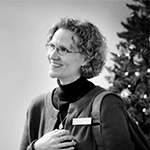 Kathryn Mulderink, MA, is married to Robert, Station Manager for Holy Family Radio. Together they have seven children (including Father Rob), and four grandchildren. She is President of the local community of Secular Discalced Carmelites and has published five books and many articles. Over the last 30 years, she has worked as a teacher, headmistress, catechist, Pastoral Associate, and DRE, and as a writer and voice talent for Catholic Radio. Currently, she serves the Church by writing and speaking, and by collaborating with various parishes and to lead others to encounter Christ and engage their faith. Her website is www.KathrynTherese.com
Feature Image Credit: Cande Sosa, cathopic.com/photo/15304-invocacion-de-los-santos