My wife, Nathalie, and I welcomed our first child, Gabriel Michael Shultz, into the world on April 4th. As I write this we are in the throes of Gabe finding his personality, watching him grow every day, sleep deprivation, and all the highs and lows that come with this absolutely beautiful blessing of new life.
Of course, as Catholics, one of the milestones in the Christian life is the sacrament of baptism, which we were able to celebrate last weekend. Father Adams, who also was the witness to our wedding, gave a wonderful reflection about what it means to be a child of God. He asked a few simple questions to the congregation that I want to ask you to reflect on today. When you are a child of a dog, what are you? You're a dog. When you are a child of a giraffe, what are you? You're a giraffe. When you are a child of a mongoose, what are you? You're a mongoose. When you are a child of God, what are you?
It's an interesting question to reflect on isn't it? Naturally we want to say God but then we feel weird that we might be heretical in speaking about a human person as God. The Catechism, however, doesn't have a problem with this strong language, in fact, it's kind of the basis of our faith. What I am talking about is the idea of divinization, where we participate in the divine nature of God. If this all seems strange or foreign to you, the Catechism affirms it in saying, "The Word became flesh to make us 'partakers of the divine nature': 'For this is why the Word became man, and the Son of God became the Son of man: so that man, by entering into communion with the Word and thus receiving divine sonship, might become a son of God.' 'For the Son of God became man so that we might become God.' 'The only-begotten Son of God, wanting to make us sharers in his divinity, assumed our nature, so that he, made man, might make men gods.'" -CCC 460
This process of divinization starts here on this earth, specifically through the sacraments, and continues on until we receive the full participation of the divine life in heaven. We got to witness our son on Sunday beginning this process. His smile immediately after the water was poured said it all, that he is a child of God and that his destiny, same as yours and mine, is to participate fully and completely in the divinity of God himself.
So, of course, we all know that baptism makes us children of God, but what is next? How do we continue in this process of divinization here on this earth? We see the answer in today's Gospel. Jesus tells us that, "Whoever eats my Flesh and drinks my Blood remains in me and I in him. Just as the living Father sent me and I have life because of the Father, so also the one who feeds on me will have life because of me."
The sacraments are the physical signs of God's love that are so real they literally infuse us with God himself. This should be the teaching we are shouting from the rooftops. If we want more people in the Church, let's bring them in by sharing the truth that all of this exists in order that we might become partakers in the divine life. We saw it with our own eyes this past weekend. I encourage you to look up the date of your baptism and celebrate this date every year with your family and friends as a sign of what God is doing in your life and how he became man so that you might become God.
From all of us here at Diocesan, God bless!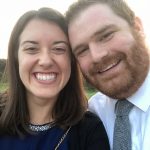 Tommy Shultz is a Business Development Representative for Diocesan. In this role he is committed to bringing the best software to dioceses and parishes while helping them evangelize on the digital continent. Tommy has worked in various diocese and parish roles since his graduation from Franciscan University with a Theology degree. He hopes to use his skills in evangelization, marketing, and communications, to serve the Church and bring the Good News to all. His favorite quote comes from St. John Paul II, who said, "A person is an entity of a sort to which the only proper and adequate way to relate is love."
Feature Image Credit: Christian Bowen, https://unsplash.com/photos/I0ItPtIsVEE