Todays' readings are so fitting for the Feast of St. Francis of Assisi. The Scriptures are wonderful lessons addressing the conversion of the heart.

The First Reading has Jonah not wanting to obey the call of the Lord God. He was pitched into the sea and swallowed and spit out after 3 days of prayer in a whale's belly.

The Gospel acclamation gives us the new commandment: "Love one another as I have loved you." The reading from Luke has a law scholar asking, "Who is my neighbor?" Jesus' reply is the story of the Good Samaritan.
Giovanni di Pietro di Bernardone (lovingly known as Francis) was born into what we today would call an upper middle class cloth merchant family. He led a carefree life, enjoyed friends and parties. He wanted to be a knight. He was captured, got ill and was imprisoned for a year during which time he read about the lives of the saints.

When Francis returned home he was not the same person. His spirit was troubled. Things he used to enjoy just didn't make him happy the way they used to. The conversion of his heart was beginning.
The conversion of the human heart is not a one and done process. As with Jonah, who resisted the call of God more than once, Francis too had to pray and listen for God's call.

Once Francis of Assisi committed his life to follow the Lord God's call he immersed himself in the Gospel, taking the Gospel teachings (especially the words of Jesus) to heart and applied them to his life; Gospel to life, life to Gospel. For Francis so loved the Lord. He acclaimed frequently, "My God and my all! My God and my all!"

St. Francis did not have an easy life once he chose to follow his Heavenly Father. He made mistakes, faced many challenges and accomplished many things in his own 'little' way by choosing to make his life follow Jesus' way. He made changes (conversions) to how he dealt with life events, even his thoughts to live out the Gospel in a moment by moment, day by day way.

I have been called to this conversion process too, going from Gospel to life, life to Gospel. I am called to love all as Jesus loves me and as the Good Samaritan loves. I thank my own good Samaritans Mark and Missy who stopped and got me some gas while on their way home from dinner with their grandkids when I ran out on an off ramp on my way to get gas last weekend.
Lord, my God and my all, help me to listen to your will in my life. Help my heart to be like Jesus' and Francis' heart. Help me to see Your face in every part of the world and my life. Amen.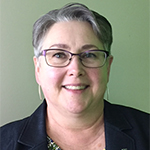 Beth Price is part of the customer care team at Diocesan. She is a Secular Franciscan (OFS) and a practicing spiritual director. Beth shares smiles, prayers, laughter, a listening ear and her heart with all of creation. Reach her here bprice@diocesan.com.
Feature Image Credit: DESIGNECOLOGIST, https://unsplash.com/photos/ACt2UZwHsIk