Twenty years ago today, on the feast of St. Lawrence, my dad was ordained a permanent deacon. I clearly remember the day because I got a "front row seat" as I was asked to photograph the liturgy. Part of me didn't want him to be a deacon because I knew he would be involved in various ministries and wouldn't be home as much. My dad and I were pretty close and I had just gotten home from my years as a missionary in Mexico a little over a year prior. Yet, I was also proud of him for all his years of study and taking this step to serve God's people.
His answer to God's call truly embodies today's Gospel passage: "Very truly I tell you, unless a kernel of wheat falls to the ground and dies, it remains only a single seed. But if it dies, it produces many seeds."
My dad had 8 children, a full time job and was involved in other ministries, yet my mom encouraged him to answer the call to be an ordained minister. Over the years, this has been a blessing to many, as together they have dedicated countless hours to mentoring engaged couples, visiting the sick, and getting more involved at their parish.
What is God calling me to do that might feel like a small "death" or sacrifice? Is He calling you to do something that feels like it might cause you to "lose" your life or alter it in a major way?
Often we are not called to move mountains or relocate to foreign lands, but rather to serve God in the small ways of everyday life. "Whoever serves me must follow me… My Father will honor the one who serves me."
Lord, may I die to myself in order to serve you each and every day.
---
Hoy, hace veinte años, en la fiesta de San Lorenzo, mi papá fue ordenado diácono permanente. Recuerdo el día claramente porque tuve un "asiento de primera fila" cuando me pidieron que tomara fotos de la liturgia. Una parte de mí no quería que fuera diácono porque sabía que estaría involucrado en varios ministerios y no estaría mucho en casa. Mi papá y yo éramos bastante cercanos y hace unos meses yo acababa de llegar a casa después de unos años como misionera en México. Sin embargo, también estaba orgulloso de él por todos sus años de estudio y por dar este paso para servir al pueblo de Dios.
Su respuesta a la llamada de Dios encarna verdaderamente el pasaje evangélico de hoy: "Yo les aseguro que si el grano de trigo sembrado en la tierra no muere, queda infecundo; pero si muere, producirá mucho fruto."
Mi papá tenía 8 hijos, un trabajo de tiempo completo y estaba involucrado en otros ministerios, pero mi mamá lo animó a responder al llamado para ser ministro ordenado. A lo largo de los años, esto ha sido una bendición para muchos, ya que juntos han dedicado innumerables horas a ser mentores de parejas comprometidas, visitar a los enfermos y participar más en su parroquia.
¿Qué me está llamando Dios a hacer que pueda parecer una pequeña "muerte" o sacrificio? ¿Te está llamando a hacer algo que parece que podría hacer que "pierdas" tu vida o alterarla de manera importante?
A menudo no estamos llamados a mover montañas o mudarnos a tierras extranjeras, sino a servir a Dios en las pequeñas cosas de la vida cotidiana. El que quiera servirme que me siga… El que me sirve será honrado por mi Padre."
Señor, ayúdame a morir a mí misma para servirte cada día.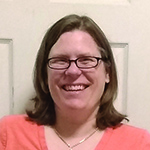 Tami Urcia grew up in Western Michigan, a middle child in a large Catholic family. She spent early young adulthood as a missionary in Mexico, studying theology and philosophy, then worked and traveled extensively before finishing her Bachelor's Degree in Western Kentucky. She loves tackling projects, finding fun ways to keep her little ones occupied, quiet conversation with the hubby and finding unique ways to love. She works at for Christian Healthcare Centers, is a guest blogger on CatholicMom.com and BlessedIsShe.net, runs her own blog at https://togetherandalways.wordpress.com and has been doing Spanish translations on the side for over 20 years.
Feature Image Credit: Melissa Askew, unsplash.com/photos/1fBUD5Dcmys