The imagery in today's readings reflect the joyful promise of what is to come at the end of Advent.

The reading from Isaiah tells of the deaf hearing, the blind seeing, no more tyrants, the arrogant gone as well as those who want to do evil. The people who make errors in spirit get understanding and others who point out faults receive instruction. What a wonder-filled world this would be!

The Gospel has two blind men asking Jesus to heal them. The men are healed, their eyes opened according to their faith in Jesus as Lord. Yet Jesus warned them not to tell about this miracle.

The two previously blind men literally and physically experienced an epiphany. The First Reading also describes an epiphany. The text illustrates how divine insight obliterates darkness. It brings light to the prophet Isaiah's vision of dwelling in the house of our Lord.

I am also reminded however that a sudden burst of light or insight can also create blindness. My eyes or mind need time to adjust to the brightness. How many times have I stumbled into something right in front of me or into situations where my awareness had been shrouded in the dark. Then all of a sudden l find that I am smack dab in the middle of something that is potentially destructive to myself or worse yet, in a ripple or tidal wave effect to others.

The season of Advent allows me the time to adjust to the coming of Jesus' divine light. I need to be intentional as I reflect during this Advent time of preparation and waiting. I must try to become aware of the things my eyes, my conscience and thought process don't, can't or refuse to see.

O Divine Light, please fill my mind, my heart, my subconscious. Illumine the situations I need to see. Help me let go of each area to be enlightened with your love and guidance. Allow me to adjust to the obstacles before me so that I may have nothing to be ashamed of when I come before you. Grant me the grace to be a light for others to come to know the glory and joy of your kingdom. Amen.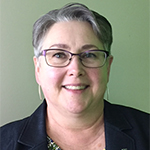 Beth Price is part of the customer care team at Diocesan. She is a Secular Franciscan (OFS) and a practicing spiritual director. Beth shares smiles, prayers, laughter, a listening ear and her heart with all of creation. Reach her here bprice@diocesan.com.
Feature Image Credit: Sir Manuel, https://unsplash.com/photos/Rf3llhpXhIE