Have you ever felt God calling you to something that you thought would be impossible for you to do? Something that really made you fearful or would imply that you go well out of your comfort zone? If there is one thing that most of the characters in the Old Testament and the Apostles from the New Testament all had in common it's that they did not feel equipped for the mission they were being called to do. Think about Moses begging God not to ask him to go to Egypt, or Abraham when he was asked to kill his own son, or Thomas being asked to have faith that Jesus had risen.
Oftentimes God is asking something of us that seems impossible. And it is. Well let me put it this way, it would be impossible without the grace from God to achieve the seemingly impossible. The first reading today explains not only that God gives grace, but that he actually gives personal grace. That is to say, he doesn't just blanket every person with the same amount and same kind of grace, but he showers us with the grace that we specifically need to be saints. It's a personal grace to us that would not mean the same to someone else.
Paul then goes on to explain that everyone has different gifts according to the grace they have been given. Some are teachers, some are prophets, others are evangelists, and the list goes on. I think it can be helpful to reflect on this very personal grace in our own lives. We live in an age where we like to compare ourselves to others as a litmus test for how good we are doing on this strange road we call life. Instagram certainly hasn't helped with the comparative nature of the average american. But St. Paul is reminding us today that we do not need to worry about feeling unequipped and we do not need to worry about comparisons.
God has given you a specific grace for the amazing things he is going to ask of you. Some of those things may be scary and may make you feel like you can't do it. In those moments, cling to the God who gives you the grace to do it. If we all waited until we felt fully confident in a decision we would never make any progress. And if we compare ourselves to others we may miss the spectacular things that God wants for us. If you struggle with any of these thoughts, I encourage you to read Exodus 4:10-12 where God calls Moses to speak on his behalf.
Here is a man who was known to have a speech impediment and God tells him that he will be by his side. That is a promise we can all take to the bank. Just don't forget to cash it in.
From all of us here at Diocesan, God bless!
---
¿Alguna vez has sentido que Dios te está llamando a algo que pensaste que sería imposible que hicieras? ¿Algo que realmente te hizo temer o implicaría que salieras de tu zona de confort? Si algo tenían en común la mayoría de los personajes del Antiguo Testamento y los Apóstoles del Nuevo Testamento es que no se sentían preparados para la misión a la que estaban llamados. Piensa en Moisés rogándole a Dios que no le pidiera que fuera a Egipto, o en Abraham cuando le pidió que matara a su propio hijo, o en Tomás cuando le pidieron que tuviera fe en que Jesús había resucitado.
A menudo Dios nos pide algo que parece imposible. Y lo es. Bueno, es decir, sería imposible sin la gracia de Dios lograr lo que parece imposible. La primera lectura de hoy explica no solo que Dios da la gracia, sino que en realidad da la gracia personal. Es decir, no solo cubre a cada persona con la misma cantidad y el mismo tipo de gracia, sino que nos baña con la gracia que necesitamos específicamente para ser santos. Es una gracia personal para nosotros que no significaría lo mismo para otra persona.
Pablo luego pasa a explicar que cada uno tiene diferentes dones de acuerdo a la gracia que ha recibido. Algunos son maestros, algunos son profetas, otros son evangelistas, y la lista continúa. Creo que puede ser útil reflexionar sobre esta gracia tan personal en nuestras propias vidas. Vivimos en una época en la que nos gusta compararnos con los demás como una prueba de fuego de lo bien que lo estamos haciendo en este extraño camino que llamamos la vida. Instagram ciertamente no ha ayudado con la naturaleza comparativa del estadounidense típico. Pero San Pablo nos está recordando hoy que no debemos preocuparnos por sentirnos no equipados y no debemos preocuparnos por las comparaciones.
Dios te ha dado una gracia específica para las cosas maravillosas que te va a pedir. Algunas de esas cosas pueden asustarte y hacerte sentir que no puedes hacerlo. En esos momentos, aférrate a Dios que les da la gracia para hacerlo. Si todos esperáramos hasta sentirnos completamente seguros de una decisión, nunca progresaríamos. Y si nos comparamos con los demás podemos perdernos las cosas espectaculares que Dios quiere para nosotros. Si luchas con alguno de estos pensamientos, te animo a leer Éxodo 4:10-12, donde Dios llama a Moisés para que hable en su nombre.
Allí vas a leer de un hombre que se sabía que tenía un impedimento del habla y Dios le dice que estará a su lado. Esa es una promesa que todos podemos llevar al banco. Solo no olvides cobrarlo.
De parte de todos nosotros aquí en Diocesan, ¡Dios los bendiga!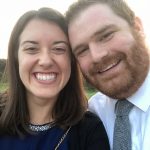 Tommy Shultz is a Business Development Representative for Diocesan. In this role he is committed to bringing the best software to dioceses and parishes while helping them evangelize on the digital continent. Tommy has worked in various diocese and parish roles since his graduation from Franciscan University with a Theology degree. He hopes to use his skills in evangelization, marketing, and communications, to serve the Church and bring the Good News to all. His favorite quote comes from St. John Paul II, who said, "A person is an entity of a sort to which the only proper and adequate way to relate is love."
Feature Image Credit: Max Vertsanov, unsplash.com/photos/gKiwu1H91T8