Christ's disciples included some women, among them Mary Magdalene—who was the first to announce Jesus' Resurrection to the Apostles. She would also be the first person to whom the resurrected Jesus appears. For these reasons, she is referred to as the Apostle to the Apostles.
Jesus healed Mary Magdalene from seven demons (Luke 8:2). I don't know anyone who doesn't wrestle with demons in their life. And, there are some, I believe, that only Jesus can remove. Mary Magdalene, once healed, became a fervent disciple of Jesus, staying close, knowing He was all she needed. Mary Magdalene possessed a faith strong enough to afford her the courage to stand at the foot of the cross during Jesus' crucifixion. She accompanied Him not only when He blessed her with prayers answered but in His darkest hour. She never ceased to trust in His promise of Heaven and to bring good in every situation (Romans 8:28).
How do we accompany Jesus?
I try to stay close to Jesus through the Sacraments, especially the Eucharist in Mass and Adoration. As St. Augustine explained, the Sacraments as "outward and visible signs of inward and spiritual graces." Adoration feels so tangible, the grace palpable, a peace truly beyond understanding. In my time before the Blessed Sacrament, I have experienced remarkable moments of clarity and wisdom in my faith.
Jesus has healed me in so many facets of my life. He's filled empty crevices and crevasses with hope, love, joy, and an abundance of gifts of grace. I've recovered from physical afflictions, some rather miraculous, but those pale in comparison to the gratitude and joy experienced when Jesus healed my spiritual, emotional, and mental wounds.
There are times as well when my prayers were answered differently, according to God's plan and not mine. Thorns of chronic illness I have often begged for Jesus to remove but yet remain. St. Paul spoke about the thorn in his side, asking God three times to remove it, yet it remained (2 Cor 12:1-10). It remained to protect Paul so he would boast only about what God did in his life and not fall into pride or forget he could do nothing without God.
"I was once lost, but now I'm found," could be sung about everyone who has said yes to follow Jesus. Even those who are faithful followers of Jesus have moments where they need to come closer and be healed. We, like St. Paul, have all suffered thorns we've begged the Lord to remove; yet when we surrender our will and accept our circumstances, we can experience the freedom that comes from not being healed and still loving the Lord. We accompany Him as true disciples simply for the hope of Heaven.
---
Entre los discípulos de Cristo había algunas mujeres, entre ellas María Magdalena, quien fue la primera en anunciar la Resurrección de Jesús a los Apóstoles. Ella sería también la primera persona a la que se le aparece Jesús resucitado. Por estas razones, se la conoce como la Apóstol de los Apóstoles.
Jesús sanó a María Magdalena de siete demonios (Lucas 8,2). No conozco a nadie que no luche con demonios en su vida. Y hay algunos, creo, que solo Jesús puede eliminar. María Magdalena, una vez sanada, se convirtió en una ferviente discípula de Jesús, permaneciendo cerca, sabiendo que Él era todo lo que necesitaba. María Magdalena poseía una fe tan fuerte como para darle el coraje de pararse al pie de la cruz durante la crucifixión de Jesús. Ella lo acompañó no solo cuando Él la bendijo con oraciones contestadas, sino también en Su hora más oscura. Ella nunca dejó de confiar en Su promesa del Cielo y de traer el bien a cada situación (Romanos 8,28).
¿Cómo acompañamos a Jesús?
Trato de estar cerca de Jesús a través de los Sacramentos, especialmente la Eucaristía en la Misa y la Adoración. Como explicó San Agustín, los Sacramentos son "signos externos y visibles de gracias internas y espirituales". La adoración se siente tan tangible, la gracia palpable, una paz verdaderamente más allá de la comprensión. En mi tiempo ante el Santísimo Sacramento, he experimentado momentos notables de claridad y sabiduría en mi fe.
Jesús me ha sanado en tantas facetas de mi vida. Ha llenado grietas y fisuras vacías con esperanza, amor, gozo y abundancia de dones de gracia. Me he recuperado de aflicciones físicas, algunas bastante milagrosas, pero son pequeñas en comparación con la gratitud y el gozo experimentados cuando Jesús ha sanado mis heridas espirituales, emocionales y mentales.
También hay momentos en que mis oraciones fueron respondidas de manera diferente, según el plan de Dios y no el mío. Espinas de enfermedades crónicas que a menudo le he suplicado a Jesús que me quite, pero aún permanecen. San Pablo habló del aguijón en su costado, pidiéndole a Dios tres veces que se lo quitara, pero permaneció (2 Cor 12,1-10). Quedaba para proteger a Pablo para que se jactara solo de lo que Dios hizo en su vida y no se enorgulleciera ni se olvidara de que sin Dios no podía hacer nada.
"Una vez estuve perdido, pero ahora me encontró", podría cantarse sobre todos los que han dicho que sí para seguir a Jesús. Incluso aquellos que son fieles seguidores de Jesús tienen momentos en los que necesitan acercarse y ser sanados. Nosotros, como San Pablo, todos hemos sufrido espinas que le hemos suplicado al Señor que las quite; sin embargo, cuando entregamos nuestra voluntad y aceptamos nuestras circunstancias, podemos experimentar la libertad que proviene de no haber sido sanados y seguir amando al Señor. Lo acompañamos como verdaderos discípulos simplemente por la esperanza del Cielo.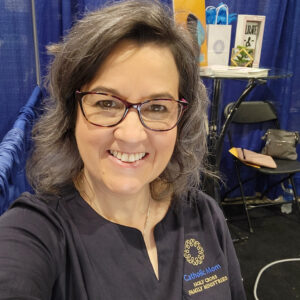 Allison Gingras ( www.ReconciledToYou.com ) — Shares her love of the Catholic Faith with stories, laughter, and honesty as experienced in the ordinary of life! Her writing includes Encountering Signs of Faith (Ave Maria Press) and the Stay Connected Journals for Women (OSV). Allison is a Catholic Digital Media Specialist for Family Rosary, Catholic Mom, and the Fall River Diocese. She hosts A Seeking Heart podcast and is co-host of the Catholic Momcast podcast.
Feature Image Credit: Vytautas Markūnas SDB, cathopic.com/photo/29916-worship-prayer
The views and opinions expressed in the Inspiration Daily blog are solely those of the original authors and contributors. These views and opinions do not necessarily represent those of Diocesan, the Diocesan staff, or other contributors to this blog.