Often my prayer resembles the words spoken by the boy's father in Mark's Gospel, who has come to beg the Lord to heal his son, "But if you can do anything, have compassion on us and help us" (Mark 9:22). And in my heart, not only do I hear Jesus' gentle and kind response, "'If you can!' everything is possible to one who has faith," but I also cry out like the boy's father cried out, "I do believe, help my unbelief" (Mark 9:14-29)!
I do believe and trust Jesus can help, most of the time, but part of me constantly wrestles with surrender. I am often a woman of little faith that craves signs and wonders to help me believe. In boldness, embracing Jesus' teaching to ask and it will be given to you (Matthew 7:7), I request oddly specific signs, so there are no lingering doubts. Remarkably, in His mercy, these harbingers and wonders often appear.
I love the Rosary, especially the 54-Rosary Novena devotion. A few years ago, the Spirit nudged me outside to pray. At first, I assumed it was to keep me away from the distractions of my desk, home, and phone. However, the Spirit was about to reveal a much bigger plan. Since I live on a busy street, I decided to do laps around the perimeter of my yard—think Joshua (and friends) and the Walls of Jericho (Joshua 6).
As I made my last circuit, in knots about the current state of my life, I looked to heaven and aired my grievances. "Lord, what do you want from me? I never miss Sunday Mass, and I diligently pray the Rosary. I have even given my life to telling people how awesome you are, and this is my reward? A life overflowing with many hardships — illness, death, financial difficulties, and family discord! Again, Lord, I ask, what do you want from me?"
As I completed the behind-the-house leg of my Rosary journey that day and turned to face the highway that runs along the front of my home, a tractor-trailer passing by caught my attention. On the side of the truck, in giant red letters, was the word — FIDELITY!
Fidelity? Really, Lord! The fancy Latin-rooted word, which not so coincidentally means faithfulness, had to be an answer to my cry of distress. Is that what you want? How could I ignore the timing of the truck's appearance? Only God could arrange the precision of that moment. Furthermore, after twenty years of traffic watching along that same highway, this was the truck's first appearance!
My trust grew exponentially from that god-incidence moment; the world would see this situation as a coincidence, but I knew it to be heaven reaching through the veil to assure me everything is possible with faith. Just be faithful; I can do that, Lord. I will continue to pray, hope, and wait on you — one Rosary bead at a time. Lord, I believe, thank you for shining into my life to help my unbelief.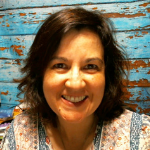 Allison Gingras works for WINE: Women In the New Evangelization as National WINE Steward of the Virtual Vineyard. She is a Social Media Consultant for the Diocese of Fall River and CatholicMom.com. She is a writer, speaker, and podcaster, who founded ReconciledToYou.com and developed the Stay Connected Journals for Catholic Women (OSV).
Feature Image Credit: Jornada Mundial de la Juventud, https://www.cathopic.com/photo/13057-rosario-mano
The views and opinions expressed in the Inspiration Daily blog are solely those of the original authors and contributors. These views and opinions do not necessarily represent those of Diocesan, the Diocesan staff, or other contributors to this blog.