I don't think I ever commented on Ezra before but this one really got me! Can you imagine wanting to go to church but feeling so unworthy?
The humility of Ezra is hard for me to imagine. How about you? Let's say you were heading toward the steeple and decided the only way you could enter the front door would be on your hands and knees, submitting to the awesome power of God. It sounds quite radical doesn't it? Right now I feel radical. I want Ezra to teach me how to be more humble.
Those that lived during Old Testament times did not have the sacrament of confession. And by the looks of the confession lines today, it doesn't seem to be an important sacrament anymore for some people. When I was an altar boy many moons ago, the lines on Saturday morning were very long. And there were usually two priests hearing confessions. What has happened in the last 50 years?
You are probably not as old as I am, but you did plow through the last three years of the COVID debacle. Because of the rules and demands placed on us we could not attend Mass. Later, many of us could attend Mass again, but only in a gym. It just didn't feel right did it? Also, wearing masks destroyed our socialization. I know it did for me. I even got to the point of not being able to recognize some parishioners who I have known for quite some time. I had a real problem with that.
The bishops gave permission for us to miss Mass. But, when we were given the green light to get back into church, there were a lot of empty pews. Many were hesitant to come back and chose to continue to watch Mass on television. Some have still not come back.
I suggest we all spend some time contemplating the love that Ezra had for His God. We cannot love someone that we do not know. To know Him is to love Him. If you cannot sit in front of the Tabernacle in your church during the week, then sit in your prayer chair and spend some time in silence and beseech the Lord to open your heart and claim Him for your own. Then, relax and get ready to receive your new Pentecost!
Serving with joy!
---
Creo que nunca he comentado sobre Ezra, ¡pero la lectura de hoy realmente me llamó la atención! ¿Te imaginas querer ir a la iglesia pero sentirte tan indigno?
Me cuesta imaginar la humildad de Ezra. ¿Y tú? Digamos que te dirigías hacia el campanario y decidiste que la única forma en que podrías entrar por la puerta principal sería de rodillas, sometiéndote al asombroso poder de Dios. Suena bastante radical, ¿no? Ahora mismo me siento radical. Quiero que Ezra me enseñe a ser más humilde.
Los que vivieron durante los tiempos del Antiguo Testamento no tenían el sacramento de la confesión. Y por el aspecto de las filas de confesión de hoy, ya no parece ser un sacramento importante para algunas personas. Cuando yo era monaguillo hace muchos años, las filas los sábados por la mañana eran muy largas. Y por lo general había dos sacerdotes escuchando confesiones. ¿Qué ha pasado en los últimos 50 años?
Probablemente no seas tan viejo como yo, pero superaste los últimos tres años de la debacle de COVID. Debido a las reglas y exigencias que se nos imponían, no podíamos asistir a Misa. Más tarde, muchos de nosotros pudimos asistir a Misa nuevamente, pero solo en un gimnasio. Simplemente no se sentía igual, ¿verdad? Además, usar máscaras destruyó nuestra socialización. Por lo menos siento que así fue para mí. Incluso llegué al punto de no poder reconocer a algunos feligreses que conozco desde hace bastante tiempo. Tuve un problema grande con eso.
Al principio los obispos nos dieron permiso para faltar a Misa. Pero, cuando nos dieron luz verde para volver a la iglesia, había muchas bancas vacías. Muchos dudaron en regresar y optaron por seguir viendo Misa por televisión. Algunos todavía no han regresado.
Sugiero que todos pasemos algún tiempo contemplando el amor que Ezra tenía por su Dios. No podemos amar a alguien que no conocemos. Conocerlo es amarlo. Si no puede sentarse frente al Tabernáculo en su iglesia durante la semana, entonces siéntese en su silla de oración y pase un tiempo en silencio y suplique al Señor que abra su corazón y lo reclame como suyo. ¡Entonces, relájate y prepárate para recibir tu nuevo Pentecostés!
¡Sirviendo con alegría!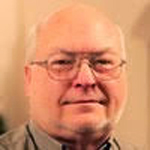 Deacon Dan Schneider is a retired general manager of industrial distributors. He and his wife Vicki have been married for over 50 years. They are the parents of eight children and thirty grandchildren. He has a degree in Family Life Education from Spring Arbor University. He was ordained a Permanent Deacon in 2002. He has a passion for working with engaged and married couples and his main ministry has been preparing couples for marriage.
Featured Image Credit: Ben White, unsplash.com/photos/bEbqpPeHEM4