Amazing! A whole reading on salvation and not a list of things for us to do to attain it. When a young woman enters religious life (which I did 40 years ago this year), she begins to organize her spiritual life, getting ready for the "great ascent" to the Heights of Union with God where the saints have climbed before us.
When she has lived as a religious for 40 years she begins to let all this dissolve into grace. Why?
The answer is in this first reading from St. Peter. And before you think I'm writing for religious, I'm writing for every person in the pews who feels their shot at holiness is pretty small because their life is not "organized" enough to follow through on practices of spiritual growth. It's a human dynamic to want to take the bull by the horns and get the job done, to mix metaphors.
But lay your ear down on the blessed Word of God and hear what God is saying: Concerning your salvation, the prophets prophesied about the grace that was to be yours…. In other words, the incredible, unmeasurable GIFT that was to be ours through no merit of our own. These are things the angels themselves longed to look into, but they are ours due to the glories that followed the suffering and death of Christ.
It is because of this amazing spirit-drenched reality which we, after our baptism, can call our home, that we then "gird up the loins of our mind, live soberly," and set our hopes on the grace which Jesus Christ has brought to us. Hope completely in this grace, not just a bit, as an add on, when I can't do it by myself. No. Completely.
We have not climbed a mountain, no great accomplishments that merit the reward of our salvation. Instead God has come to us and intimately united us to himself which is our salvation. This makes us want to live and be all that we have received, and even still we set our hopes on the grace of Jesus who willingly gives us his life, becomes our way, and invites us to the truth that never ends.
This morning as I prayed in the early morning hours, the clouds parted a bit to show me the deeper path of the divine Heart of Jesus who sustains me in life and in grace. He looked on me with a mixture of challenge, affection, and mischievous understanding that I would eventually give him everything…eventually…and let go of my own spiritual project.
And so Jesus reminds me, in the last sentence of the first reading, "he who called you is holy…" so be as holy as he, because that is the beauty that will fulfill me. Nothing less. Nothing else.
Then, a sigh. Peace.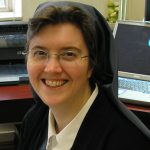 Sr. Kathryn James Hermes, FSP, an author and spiritual mentor, offers personalized and professional guidance for the contemporary Christian's journey towards spiritual growth and inner healing. She draws from the spiritual tradition and her own lived experience to lead seekers deep within themselves and through their personal history to deepen their intimacy with and trust in God; live with greater joy, peace, and interior freedom; and encounter the Lord in their past and present life experiences to find healing, grace, and newness of life. She is the director of My Sisters, where people can find spiritual accompaniment from the Daughters of St. Paul on their journey. Sr. Kathryn's forthcoming book Reclaim Regret: How God Heals Life's Disappointments, will be released in September 2018.
Website: touchingthesunrise.com.
Open Facebook Group: https://www.facebook.com/groups/srkathrynhermes/