The Scripture readings for the Fifth Sunday of Easter this year are jam-packed with so many great things. I feel as though we should celebrate this day and these words joyfully. In fact, I plan to celebrate later with a cake, and it might just have candles on it. But I digress.
Let's start with the First Reading, from Acts of the Apostles. It seems like a greatest hits list of Paul and Barnabas, all the places they visited, all the disciples they made, all the success they saw. Lystra, Iconium, Pisidia, Pamphylia, Perga, Attalia — so many places to give a lector fits, but they show a pattern of success for these Apostles to the Gentiles. Still, Paul and Barnabas don't see it that way, and neither should we. When they return to Antioch and report about their missionary trip, they didn't tell the Church what they did. No, they "reported what God had done with them and how He had opened the door of faith to the Gentiles." They put the credit firmly where it belongs, on God alone, doing the work through them. May we, in our discipleship, let God do His work through us.
Next, there's the beautiful words from Revelation. It's a book so often misunderstood or misinterpreted, but today's message is very clear. "Behold, God's dwelling is with the human race. He will dwell with them and they will be His people and God himself will always be with them as their God." The line echoes several Old Testament passages where God called the Hebrews into covenant with Him. But now, it has a new twist — no more death or mourning, wailing or pain — because God "make(s) all things new." May we, in our relationship with God, always remember his promise to be with us.
Then, in the Gospel from John, Jesus gives us his new commandment: love one another. We might ask, how can this be new? God has commanded us since the Old Testament to love others as we love ourselves. Again, God makes something new, taking the old commandment and transforming it. The key is in Jesus' next line: "As I have loved you, so you also should love one another." Our love is not to exist because the law tells us we have to, our love must exist because Jesus has loved us first. His love stems from a personal relationship, not a law. He cares for us and about us. May our love, then, be put into action for others, just the same way Jesus demonstrated his love for us, pouring out his very self for our sake.
It is a lot to ask. Paul recognized this, telling his new disciples, "It is necessary for us to undergo many hardships to enter the kingdom of God." Yet the reward is beyond our wildest dreams — beyond even the greatest birthday present a guy could ever hope for, unless that hope is to be with God forever. It's definitely worth working for. Dear Jesus, help us, please.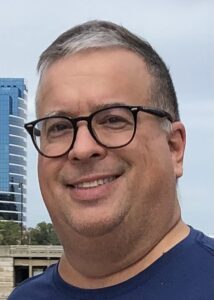 Mike Karpus is a regular guy. He grew up in Michigan's Upper Peninsula, graduated from Michigan State University and works as an editor. He is married to a Catholic school principal, raised two daughters who became Catholic school teachers at points in their careers, and now relishes his two grandchildren, including the 3-year-old who teaches him what the colors of Father's chasubles mean. He has served on a Catholic School board, a pastoral council and a parish stewardship committee. He currently is a lector at Mass, a Knight of Columbus, Adult Faith Formation Committee member and a board member of the local Habitat for Humanity organization. But mostly he's a regular guy.
Feature Image Credit: James Coleman, https://unsplash.com/photos/tG6TwdeDMyI