In today's Gospel, Jesus told His disciples: "Whoever has My commandments and observes them is the one who loves Me. Whoever loves Me will be loved by my Father, and I will love him and reveal myself to him."
This is so very true! If we love God, we will follow His commandments—without hesitation and without complaint. For without God, we have nothing. And we can do nothing.
Yes, we may be able to be happy for a short period. We may have good fortune. Things may go well for a time. But if we don't have God, if we don't love Him, if we don't follow His commands, we ultimately have nothing.
The goal of our lives is to spend eternity with God. Everything we do on earth should lead us down that path. If not, we are doing something wrong. It may feel right for a short time, but it will not actually be right.
He is the vine, and we are the branches. We grow through His goodness. And we must then take that goodness and allow it to bear fruit in our own lives as we spread His word. In other words, in all that we do, we must use the blessings He has given us to bring others to Him.
How do we do that? According to the Church, there are 12 fruits of the Holy Spirit. These are the "observable behaviors of people who have allowed the grace of the Holy Spirit to be effective in them." These include charity, generosity, joy, gentleness, peace, faithfulness, patience, modesty, kindness, self-control, goodness, and chastity.
These characteristics are the fruits of a life rooted in Christ and that grow from His love and goodness. We just need to allow them to flow from us.
All of these fruits are important, of course, but I think right now the most important are peace, charity, and faithfulness, for when we live a life filled with those three tenets, the others will naturally flow.
So let us think of the things we can do in our daily lives to produce these fruits in our families, in our communities, and at work. Let us spend today thinking about our actions and remember this: Before we act, let us ask ourselves whether these actions demonstrate that we are following God's commandments. Let us also ask ourselves if God would be proud of the action we're about to take. If not, that should tell us something.
When we live a life rooted in following God's laws and commands, we will not only grow in holiness, but we will help others grow as well. And that is what God wants of us.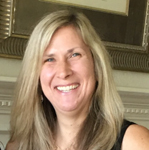 Susan Ciancio has a BA in psychology and a BA in sociology from the University of Notre Dame, with an MA in liberal studies from Indiana University. For the past 19 years, she has worked as a professional editor and writer, editing both fiction and nonfiction books, magazine articles, blogs, educational lessons, professional materials and website content. Thirteen of those years have been in the pro-life sector. Currently Susan freelances and writes weekly for HLI, edits for American Life League, and is the executive editor of Celebrate Life Magazine. She also serves as executive editor for the Culture of Life Studies Program—an educational nonprofit program for K-12 students. You can reach her at slochner0.wixsite.com/website.
Feature Image Credit: Susana Saldivar B, https://www.cathopic.com/photo/15952-welcome-home-my-daughter