In this Gospel passage, Jesus invites us to a personal relationship with Him by abiding in His love. And how do we abide in His love? By keeping His commandments, which, as St. John explains in his first Epistle (I John 5:3), are not burdensome. The two commandments which should be our daily focus are to love God with our whole heart and soul, and to love our neighbor as ourselves (Mat 22: 37-40). There is a great promise attached to embracing these commandments: whatever we ask the Father in His name, He will give it to us.
Jesus states, that He loves us, asks us to return that love back to Him, and wants that same love to flow out to others. The greatest love that can be shown for a friend is to lay down your life for them. Jesus demonstrated His love for us by laying down His life for us on the Cross. True love is not abstract or passive, but active in service and sacrifice for others.
Knowing that it was the eve of His passion and death for our sins, Jesus wants to emphasize what is most important in His final words. That message was for us to "love one another as I have loved you." We are called to love with Christ's love, not on our own. We can never love independently, but only when we are open to being a vessel of His love. This is how we experience the true joy which Christ promised. When we place other people's needs ahead of ours, we show that friendship isn't just found in our words but in our actions.
When we take the next step and suffer for our friends we are following the footsteps of Christ. Self-giving and self-sacrifice are an intimate pathway to growing closer to Christ, and when we offer them up to the Lord, it is redemptive. This is how we bear fruit that will abide and is the result of the Father pruning us as a branch in the vine of Christ.
In the work I do at WelcomeHisHeart.com I rejoice when Catholics reach out to me and share how their family encountered healing, hope, and grace through the Enthronement of the Sacred Heart. This simple self-directed ceremony is when Christ is welcomed into our life through enthroning Him on high, and we learn to live in union with His Most Sacred Heart.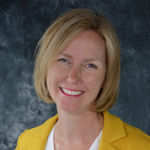 Emily Jaminet is a Catholic author, speaker, radio personality, wife, and mother of seven children. She earned a bachelor's degree in mental health and human services from the Franciscan University of Steubenville. She is the co-founder of www.inspirethefaith.com and the Executive Director of The Sacred Heart Enthronement Network www.WelcomeHisHeart.com. She has co-authored several Catholic books and her next one, Secrets of the Sacred Heart: Claiming Jesus' Twelve Promises in Your Life, comes out in Oct. 2020. Emily serves on the board of the Columbus Catholic Women's Conference, contributes to Relevant Radio and Catholic Mom.com.
Feature Image Credit: Canva Pro