The readings for today have been challenging me. My initial reaction to the first reading is, ugh, Paul imprisoned for a long time, yet a faithful witness. OK, really not the path I want to see myself taking. However, if God puts imprisonment in my path, then, I'll follow His lead….gulp!
As for the Gospel, I envision Peter with a toss of his head saying, "Lord, what about him?" Jesus replies with a downward disappointing glance, shaking his head, "What's it matter to you?… You follow me." Again, ugh. Me, follow Him, OK, I'm walking that path.
Not to judge others on the way, just focus on Jesus. I can't always keep focus on the things I have to do today at work, around my condo, in my personal life, in any number of situations. Who am I to judge if anyone else can keep his/her focus on Jesus?
Peter had no right to judge or give a head nod to another disciple. He'll deny Jesus 3 times! It's hard having to be constantly vigilant, to love all (through Jesus' perspective, love one another as I love you). I catch myself trying not to grind my teeth when my button is pushed because of something said by a neighbor, coworker, family member, civic leader and being ready to offer a prayer of patience, love and humility for the one speaking, if I cannot find the words to speak the truth in love at that moment.
I draw strength and fortitude in the fact that today is the day before Pentecost, the 9th day of the Pentecost novena. I need the Holy Spirit to enliven the gifts given to me in baptism in order to follow you, Jesus. I cannot be a good citizen in this world, without your grace and blessings. I need to rely on you in order to follow you.
O Holy Spirit, divine giver of gifts, grant me a servant's heart so I can place the gifts I have been given at the service of others. Move me to compassion for those around me. Enlighten my ignorance, advise me in my doubts, strengthen me in weakness, protect me in temptation and struggles. Fill me with your holy gifts so I may have success the duties you have set before me, that I may do what is right and just. Help me to grow in goodness and grace. Amen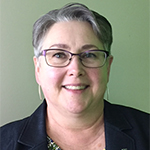 Beth Price is a Secular Franciscan (OFS) and spiritual director who has worked in several parish ministry roles during the last 20 years. She is a proud mother of 3 adult children. Beth currently works at Diocesan.