**Post for 10-10-2021**
Is it easy to get to Heaven? Does everyone get in, in the end? What does it cost?
These are important questions for framing our worldview, our outlook on life, the way we approach decisions and choices in our daily life. Because if it is easy to get into the heavenly Kingdom, if everyone is admitted in the end, if it costs little, then the little decisions of our daily lives aren't that important.
If, on the other hand, it is hard to enter the kingdom of God, if it is, in Jesus' own words, IMPOSSIBLE for human beings to be saved, then we'd better have a good plan.
The Good News is that WE don't actually need to come up with a plan on our own. Since the beginning, God Himself has had a Plan in place, because "all things are possible for God," even – especially – things that are utterly impossible for us.
The rich young man has a poor plan. He seems to think that obeying the commandments is enough to get into the kingdom; he may even be asking Jesus the question about what he must do to inherit eternal life so that he can go away feeling justified after declaring that he observes all the rules. But instead he goes away sad, because Jesus tells him there is more. "You are lacking in one thing," and directs him to sell everything so that he is free to follow Him.
"He had many possessions," and he was not ready to let go of them. Possessions (material and immaterial) give security, comfort, prestige, even popularity and power. Following Jesus without clinging to stuff requires us to let go of the superficial securities and comforts of our stuff; letting go means trusting Jesus completely, and not our own resources.
Jesus was giving the man the opportunity of a lifetime – to jettison all the stuff he was hanging onto so that his hands would be free to embrace all that the Lord wanted to give him. But he couldn't do it. He couldn't let go. So he went away sad.
But there's still Good News, because the man was not lost forever. Jesus didn't say, "FAIL! You've missed your chance, and now you are forever excluded from the Kingdom." He never does, because Jesus never runs out of options. The Lord is infinitely creative in opening opportunities for us to see what we are and holding up a vision of what He calls us to be, inviting us to let go of what we think is valuable so that we can open our arms to embrace all He longs to give us.
We can hope that this man who went away sad thought again returned to receive what he was being offered.
And we can too. Missed opportunities are not the end of our story. The Lord is still offering us opportunities to say YES to Him! Today, let's say YES anew!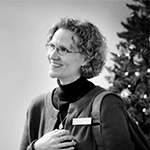 Kathryn Mulderink, MA, is married to Robert, Station Manager for Holy Family Radio. Together they have seven children (including Father Rob), and four grandchildren. She is President of the local community of Secular Discalced Carmelites and has published five books and many articles. Over the last 30 years, she has worked as a teacher, headmistress, catechist, Pastoral Associate, and DRE, and as a writer and voice talent for Catholic Radio. Currently, she serves the Church by writing and speaking, and by collaborating with various parishes and to lead others to encounter Christ and engage their faith. Her website is www.KathrynTherese.com
Feature Image Credit: Tumisu, https://pixabay.com/photos/man-rich-treasure-money-business-4886221/