I will never forget hearing this reading for the first time, being almost nine months pregnant with my first child. I pondered the significance of this Gospel, and later my husband and I decided that this should be the name of our oldest and firstborn son. What was so touching in the story was that Jesus "saw Nathaniel." This simple phrase holds a deep and powerful meaning of how Jesus is always with us, even today.
This exchange between Jesus and Nathaniel in the Gospel also reinforces the importance of us seeking Christ and clinging to our Catholic faith. What could a parent desire more than a child with faith? Faith is a gift from God! For some of us, faith seems "easy," and we have never walked away or wavered in believing like Nathaniel. For others, it requires effort to see Christ working in our lives, and we might need to pray a lot for the Lord to provide us with more grace to increase our faith.
Just think of the difference between Nathaniel in this story and St. Thomas, also a key follower of Christ. St. Thomas didn't believe that Jesus rose from the dead and declared that he would only believe if he could touch his very wounds (Jn 20: 24-29). St. Thomas needed to place his finger in the wounds of Jesus and feel the incision marks on Jesus' side to believe, while Nathaniel just believed because Jesus saw him.
We are blessed to believe when we don't see or have proof, but it doesn't mean it is always easy! We can see in this Gospel story that having faith is more than just "knowing and believing" but instead, trusting and always seeking Christ no matter what life looks like at that moment. Our Catholic faith requires us to know Christ, love Him, and serve Him to the best of our ability.
We read in the Catechism that faith is a gift directly from God. "Faith is a gift of God, a supernatural virtue infused by him. Before this faith can be exercised, man must have the grace of God to move and assist him; he must have the interior helps of the Holy Spirit, who moves the heart and converts it to God, who opens the eyes of the mind and 'makes it easy for all to accept and believe the truth" (CCC 153). What a gift to have the example of Nathaniel as a reminder to seek new graces in our lives and to pray for others so that we, too, can be touched by God and increase our faith.
Today is the feast of Saints Michael, Gabriel, and Raphael, the archangels. These angels are considered saints because they chose to follow God and worship Christ. Today is a powerful reminder that these great archangels are here to help you battle Satan and defend us against all evil. Why not seek God in a new way by asking Him to increase your faith and also seek out the protection of these angels?
---
Nunca olvidaré escuchar esta lectura por primera vez, con casi nueve meses de embarazo con mi primer hijo. Reflexioné sobre el significado de este Evangelio, y más tarde mi esposo y yo decidimos que ese debería ser el nombre de nuestro hijo mayor y primogénito. Lo que fue tan conmovedor en la historia fue que Jesús "vio a Natanael". Esta simple frase tiene un significado profundo y poderoso de cómo Jesús se porta siempre con nosotros, incluso el día de hoy.
Este intercambio entre Jesús y Natanael en el Evangelio también refuerza la importancia de que busquemos a Cristo y nos aferremos a nuestra fe católica. ¿Qué podría desear más un padre que su hijo tenga fe? ¡La fe es un regalo de Dios! Para algunos de nosotros, la fe parece "fácil", y nunca nos hemos alejado o vacilado en creer como Nathaniel. Para otros, requiere esfuerzo ver a Cristo obrando en nuestras vidas, y es posible que necesitemos orar mucho para que el Señor nos dé más gracia para aumentar nuestra fe.
Solo piense en la diferencia entre Natanael en esta historia y Santo Tomás, también un seguidor clave de Cristo. Santo Tomás no creía que Jesús resucitó de entre los muertos y declaró que solo creería si pudiera tocar sus mismas heridas (Jn 20, 24-29). Santo Tomás necesitaba poner su dedo en las heridas de Jesús y sentir las marcas de incisión en el costado de Jesús para creer, mientras que Natanael simplemente creyó porque Jesús lo vio.
Tenemos la bendición de creer cuando no vemos o no tenemos pruebas, ¡pero eso no significa que siempre sea fácil! Podemos ver en esta historia del Evangelio que tener fe es más que solo "saber y creer", sino confiar y buscar siempre a Cristo sin importar cómo se vea la vida en ese momento. Nuestra fe católica requiere que conozcamos a Cristo, lo amemos y lo sirvamos lo mejor que podamos.
Leemos en el Catecismo que la fe es un don directamente de Dios. "La fe es un don de Dios, una virtud sobrenatural infundida por Él. Para dar esta respuesta de la fe es necesaria la gracia de Dios, que se adelanta y nos ayuda, junto con los auxilios interiores del Espíritu Santo, que mueve el corazón, lo dirige a Dios, abre los ojos del espíritu y concede 'a todos gusto en aceptar y creer la verdad." (CIC 153) Qué regalo tener el ejemplo de Natanael como un recordatorio para buscar nuevas gracias en nuestras vidas y orar por los demás para que nosotros también podamos ser tocados por Dios y aumentar nuestra fe.
Hoy es la fiesta de los Santos Miguel, Gabriel y Rafael, los arcángeles. Estos ángeles son considerados santos porque eligieron seguir a Dios y adorar a Cristo. Hoy es un poderoso recordatorio de que estos grandes arcángeles están aquí para ayudarte a luchar contra Satanás y defendernos de todo mal. ¿Por qué no buscar a Dios de una manera nueva pidiéndole que aumente su fe y también busque la protección de estos ángeles?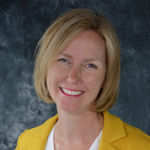 Emily Jaminet is a Catholic author, speaker, radio personality, wife, and mother of seven children. She earned a bachelor's degree in mental health and human services from the Franciscan University of Steubenville. She is the co-founder of www.inspirethefaith.com and the Executive Director of The Sacred Heart Enthronement Network www.WelcomeHisHeart.com. She has co-authored several Catholic books and her next one, Secrets of the Sacred Heart: Claiming Jesus' Twelve Promises in Your Life, comes out in Oct. 2020. Emily serves on the board of the Columbus Catholic Women's Conference, contributes to Relevant Radio and Catholic Mom.com.
Feature Image Credit: #ArqTl, cathopic.com/photo/1325-light-sign-of-faith