In today's Gospel, we hear those very familiar words of the Centurion. In the previous Gospel, Jesus had just come down from the mountain. After preaching and teaching, he was healing people right and left. It didn't matter what the afflictions were, Jesus healed them. Then, in today's Gospel, people were pushing up to him from all sides, wanting his attention and help. Then something very strange happens. A Centurion comes up to him (a Centurion is a very important Roman soldier in charge of 100 men). He said to Jesus, "Lord, my servant is lying at home paralyzed, suffering dreadfully." Those that were there must have been astounded that a Roman soldier, let alone a centurion, a nonbeliever, would come to Jesus for help! In those times a servant was a kind of lowlife. And here was a soldier asking Jesus to help him. And what was Jesus' answer? "I will come and heal him". The Centurion replied, "Lord, I am not worthy to have you enter under my roof; only say the word and my servant will be healed". Do those words sound familiar?
Imagine a man of great power humbling himself before Jesus. I was in the business world for 40 plus years. And never saw that kind of humility. With a man of great authority and power, it was usually the opposite. Jesus was touched by this man's faith! This is an example of Jesus not being present for the healing. The servant was healed by long distance. This event was so profound that the Church fathers incorporated it in the Holy Sacrifice of the Mass!
For me, the keyword in this event is faith. Remember the time Jesus was passing through Nazareth? He cured very few people there, because there was so little faith. He also told us that if we had the faith the size of a mustard seed we could move mountains. Have you ever seen a mustard seed? It is a like a pepper speck. When I first saw it my heart sank. Is this me, I thought? Try looking at a speck of pepper and ask yourself, is my faith greater than this? The Centurion had no church, no sacraments, no devotions or Eucharist to come close to God. Yet he was close, very, very close.
Serving With Joy!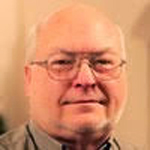 Deacon Dan Schneider is a retired general manager of industrial distributors. He and his wife Vicki recently celebrated their 50th wedding anniversary. They are the parents of eight children and twenty-nine grandchildren. He has a degree in Family Life Education from Spring Arbor University. He was ordained a Permanent Deacon in 2002. He has a passion for working with engaged and married couples and his main ministry has been preparing couples for marriage.
Featured Image Credit: pelau, https://www.cathopic.com/photo/4472-solo-tocando-manto-sere-sanada