Today's First Reading from Jeremiah depicts the image of being formed at the hands of the potter. God does the same to us. He forms us and shapes us and molds us until we become a beautiful vessel. I feel like God is doing this to me right now, amid hardship and tears. I am in my third trimester with my fourth child, while working full time and trying to give my other three the love and attention they need and desire. How many times must I explain that it hurts mommy when they jump on my belly or that I can't get up every five seconds to find their lost toy because my feet are swollen and I feel like a beached whale? They want to be held. They want me to play with them. Yet all I can muster is surviving for an hour after work until they go to bed.
But what would happen if I did get up? What would happen if I let them cuddle even though it was uncomfortable? Would it kill me? Or would it make me a better person and a better mom? It is in these moments that I feel the Potter gently molding and shaping me, calling me out of my laziness and selfishness to continue giving as I ought.
To add to the madness of the daily grind, we are in the midst of a remodel to add an additional room upstairs for the baby. Tearing out and reconstructing closets, putting in doorways, relocating light switches and outlets, putting in HVAC vents… We are creating a space for our little one, working at the potter's wheel so to speak. We can either allow ourselves to be swallowed up in the stress of the project or we can lovingly mold this corner of our house. And the reality of the work itself molds us as we mold it. It pushes the limits of our exhaustion, gives us the opportunity to patiently labor amid "little helpers", and makes us realize that things may not go according to our plans and it may not be completed before the wee one's arrival.
But in the end, sometimes that pesky free will gets in the way. It is up to us whether we allow ourselves to be transformed and sanctified with these trials or fall into frustration and despair. Jesus tells us in today's Gospel "Thus it will be at the end of the age. The angels will go out and separate the wicked from the righteous…" Which lot will we fall into? Will we allow the Potter to transform us in order to be counted among the righteous? Or will we die in the wickedness of our sin? May we all encounter the humility to cry out with sincerity of heart "Blessed is he whose help is the God of Jacob, whose hope is in the Lord, his God." (Psalm)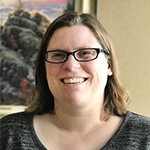 Tami Urcia is wife and mother to her small army of boys. She works full time at Diocesan and is a freelance translator and blogger (BlessedIsshe.net and CatholicMom.com) She loves tackling home projects, keeping tabs on the family finances, and finding unique ways to love. Tami spent early young adulthood as a missionary in Mexico, then worked and traveled extensively before finishing her Bachelor's Degree. Her favorite things to do are spending time outside with the kiddos, quiet conversation with the hubby, and an occasional break from real life by getting a pedicure or a haircut. You can find out more about her here.