Today's brief Gospel always seemed a bit remote to me: buried treasure and precious pearls are far from my experience and not very interesting. But I had missed the subtle point here.
Jesus' parables of the Kingdom of Heaven fall from his mouth like a stream over rocks. The metaphors are varied and plentiful because his understanding of the Kingdom is rich and profound. He describes it from many angles, attracts us with many ideas, and we should see these images as points of meditation.
Clearly, by comparing the Kingdom to a hidden treasure and a pearl that would make one rich, Jesus means to help us understand the very great value we should place on the Kingdom above all other things: when we find this true Treasure, we will be content and our labors will be over because we will have all that we desire. This in itself can serve as a fruitful reflection on our personal priorities. Are we willing to "sell all we have" to buy that one thing? What are we holding on to because we think it will be more fulfilling, more necessary to us, than the very Kingdom of God?
But there is another point worth pondering here: sometimes, we think that we will reach the Kingdom by our work and toil and sacrifice. But in these comparisons we see that, once we have glimpsed the richness of the Kingdom, we willingly let go of everything else, so that we are free to hold onto it. In the two instances in today's Gospel, the person FIRST discovers the great (hidden) valuable and THEN, JOYFULLY, sells all that he has in order to possess it.
In other words, our "work" is first to seek the Kingdom, like digging for treasure or searching for pearls. In order to seek well, we must be willing to do some hard work/study/prayer, remain open to surprises, and let go of our own ideas and agendas so that God can lead us to the Truth. Then, when we glimpse the depth and beauty and richness of this Truth – the Truth that is the Kingdom, the Truth that is friendship with Jesus and adopted Sonship with him – we must be willing to let go of everything else that we thought was truth, that we thought would bring fulfillment, that we thought would bring us joy. Only then, when we let go of every falsehood and shadow, are our hands and hearts finally free to embrace the Kingdom we have glimpsed.
Let us each pray for the spiritual freedom to seek the Truth, Beauty, and Goodness that is the Kingdom of Heaven, so that we are at last free for friendship with Jesus.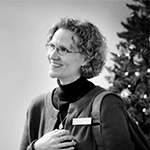 Kathryn is married to Robert, mother of seven, grandmother to two, and a lay Carmelite. She has worked as a teacher, headmistress, catechist, Pastoral Associate, and DRE, and also as a writer and voice talent for Holy Family Radio. Currently, she serves the Church as a writer and presenter, and by collaborating with the diocesan Office of Faith Formation, individual parishes, and Catholic ministries to lead others to encounter Christ and engage their faith. Learn more at www.kathryntherese.com or on Facebook @summapax.