"Stop judging, that you may not be judged. For as you judge, so will you be judged, and the measure with which you measure will be measured out to you."
Sometimes, this verse is misunderstood to mean that we cannot judge actions as right or wrong, and so to mean we must tolerate serious wrongdoing because "it's none of my business." And if we judge others we will be severely judged. But elsewhere, Jesus tells us to "judge with right judgment" (John 7:24). So, we CAN judge, but we shouldn't?
Sometimes, this is (more correctly) understood to mean that we can judge actions but not people. We should not condone sin, but we cannot condemn a sinner. This is certainly true, but where is love in this interpretation? Refusal to judge must be filled with genuine love for the other, and a desire for their good. A "parable" from Erasmus Leiva-Merikakis in his wonderful reflection on the Gospel of Matthew entitled Fire of Mercy, Heart of the Word (Ignatius Press) invites us to a subtler reflection on how we might apply these words to our lives:
A beggar comes to my door asking for water to quench his thirst. I will not turn him away, because I fear some neighbor might observe my disdain. At the same time I do not consider the beggar worthy of touching with his lips more than the smallest tin cup in the house, which I quickly fill and brusquely hand him, so carelessly that half the cup spills. The cup is so small and mean, in fact, that I tell him to keep it. In reality, I don't want to waste my time in such company.
Much time—a whole lifetime—passes, and I find myself in the presence of Christ the King and Judge. I anxiously await my reward: I have always revered God, kept the commandments, observed the Lenten fasts, and celebrated the Church's feasts with due solemnity. The King hands me back my tin cup, which I had long forgotten and certainly did not expect to see again in this eschatological setting. Seeing the look of dismay on my face, and with an infinite kindness in his voice that almost has the pleading tone of a beggar in it, Christ says to me: 'I'm sorry, friend. Even I, the King, have no other cup to give you.'
Taking on ourselves the role of judge closes us up against all that the Lord wants to give us! It is not simply a fear of judgment that should align us with these words of Christ, but the awful truth that the capacity of our own hearts for love and forgiveness and God is constricted when we ignore them! To become "perfect as the heavenly Father is perfect," we must share his loving and forgiving view of all of creation, particularly those we find difficult.
How can we see others through the lens of genuine love today?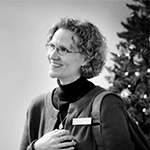 Kathryn Mulderink, MA, is married to Robert, Station Manager for Holy Family Radio. Together they have seven children (including newly ordained Father Rob and seminarian Luke ;-), and two grandchildren. She is a Secular Discalced Carmelite and has published five books and many articles. Over the last 25 years, she has worked as a teacher, headmistress, catechist, Pastoral Associate, and DRE. Currently, she serves the Church as a writer and voice talent for Catholic Radio, by publishing and speaking, and by collaborating with the diocesan Office of Catechesis, various parishes, and other ministries to lead others to encounter Christ and engage their faith. Her website is https://www.kathryntherese.com/.
Feature Image Credit: Jonas Brief, https://unsplash.com/photos/tAz3Ve2qPio