Today my coworker led our morning prayer and ended with, "Father, all I ask is that we find ourselves laughing today. I ask for nothing more than the beautiful gift of laughter."
And what a gift it is, being able to feel so free, so joyous, so relaxed, that we find ourselves enjoying laughter. A large part of being able to genuinely laugh (not nervously laugh) is being able to let your guard down, being able to trust the situation you're in, and being able to trust the people you're with. Similarly, I find myself laughing with the Lord when I trust in Him.
How many times have I found myself in some ridiculous situation that would normally be worrisome or stressful, yet I am laughing because I trust in God's plan, whatever that may be. For example, I was once late to work because there were literally goats on the road and traffic was stopped while people got out of their cars and tried to chase them down. Instead of being upset, I laughed. I laughed because I knew how ridiculous it would sound when I told my boss that I was late because goats had escaped onto the road. I laughed because even though I would be late, I knew that this was a part of God's plan.
You see, I was having a terrible day before this and, just minutes before, I had started praying in the car. I was just having a conversation with God. I asked for His grace so I could see beauty in the world. What I was given was the beautiful gift of laughter.
In today's reading, Jacob trusts in the Lord enough to leave his home with everything he owns and everyone he loves. Then, he is greatly rewarded by the joy of seeing his son. I can just imagine his overwhelming joy, the tears as he laughs. His trust in the Lord's plan, in the Lord Himself, means the beautiful gift of laughter is able to enter his life.
So, today, pray for the gift of laughter. Allow yourself to trust in God. Drop the guard around your heart and… Just laugh.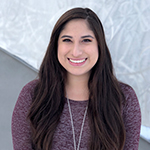 Veronica Alvarado is a born and raised Texan currently living in Pennsylvania. Since graduating from Texas A&M University, Veronica has published various Catholic articles in bulletins, newspapers, e-newsletters, and blogs. She continued sharing her faith after graduation as a web content strategist and digital project manager. Today, she continues this mission in her current role as communications director and project manager for Pentecost Today USA, a Catholic Charismatic Renewal organization in Pittsburgh.
Feature Image Credit: Omar Lopez, https://unsplash.com/photos/rwF_pJRWhAI