To proclaim something, we have to know it. To know something, we need to give it our attention.
Recently, I was asked how God was working in my life. And I went blank. I mean, absolutely blank. I could have listed all the things I was doing, how school was going, what we were doing to keep life busy, but when it came to how God was working in my life, I didn't have one single thing to say.
I was horrified. I am still embarrassed.
There isn't one thing in my life that isn't an incredible gift from God, yet in that moment I couldn't come up with anything.
My days are filled with a multitude of tiny and wondrous ways God is active in my life. I have a husband I love. I have a job I love. I have a wonderful home with a wren who comes and sings on my deck as I drink my morning coffee. I have a dog who snuggles extra tight during thunderstorms. It wasn't that God isn't present and active for me, it was that I hadn't stayed present to God. I had not been giving God my attention. I had not maintained a sense of gratitude or kept a vigilant eye for all the miracles that surround me everyday.
This is when I need to go to confession; when I become so busy, so sure of myself that I forget I am only capable of taking my next breath because God purposefully holds me in the palm of His hand. All that I do and all that I have is gift, freely given.
I am not called to do great public acts but I am called to keep my mind and heart open to all the daily ways God's grace is present in my life. When I give God's actions my attention, I can come to know Him and His will for me. When I know God well, I am able to proclaim all his wondrous deeds, not just when I am asked, but through all that I do each and every day, so each and every act becomes a prayer of praise to Him.
Today, my prayer is that you are able to stop and become more aware of how God is working in your life so that with the Psalmist, we can proclaim God's wondrous deeds together!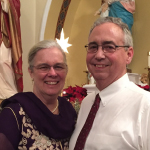 Sheryl O'Connor delights in being the number 1 cheerleader and supporter for her husband, Tom who is a candidate for the Permanent Diaconate in the Diocese of Kalamazoo. They are so grateful for the opportunity to grow together in this process whether it is studying for classes, deepening their prayer life or discovering new ways to serve together. Sheryl's day job is serving her community as the principal for St. Therese Catholic School in Wayland, Michigan. Since every time she thinks she gets life all figured out, she realizes just how far she has to go, St. Rita of Cascia is her go-to Saint for intercession and help. Home includes Brea, a Bernese Mountain dog and Carlyn, a very, very goofy Golden Retriever.
Feature Image Credit: Gabrielle Henderson, https://unsplash.com/photos/M4lve6jR26E