Today is the memorial of Pope Saint Gregory the Great, and a doctor of the Church. I usually make a point of doing some research about the saint(s) of the day before beginning any writing, and always after I've read the Scriptures for the day. I'm particularly drawn to these lines from Pope St. Gregory I:

"The sacred scriptures grow with the one who reads them."

"God is within all things but not included; outside all things but not excluded. God is above all things but not beyond their reach."

"The Bible is a stream of running water, where alike the elephant may swim, and the lamb walk without losing its feet."

"Let no seductive good fortune lead us astray, he is a foolish traveler who sees pleasant meadows on his journey and forgets where he is going."

"Act in such a way that your humility may not be weakness, nor your authority be severity. Justice must be accompanied by humility, that humility may render justice lovable."

What I read in the lines above come to life for me in the Sacred Scriptures today. As I continue to read and reflect on the passages for today, they take on different dimensions just as the first quote states. The reading from Colossians encompasses the second quote from St. Gregory.

The third really reminds me of a children's story, Seven Blind Mice, that I've read to my family and used in many different catechetical situations. It reminds us, just like the first and third quotes, that each of us begins in a different place on the journey. Together though, we can come into a greater sense of shared vision and perspective.
It's a great lead into the Gospel from Luke where scribes and Pharisees question Jesus about his disciples not fasting and offering prayers. Jesus then shares the parable about the new wine and old wineskins, and the next two quotes above illuminate this for me.

The Gospel acclamation from John says, "I am the light of the world, says the Lord: whoever follows me will have the light of life". May the Sacred Scriptures continue to grow within you. May you feel as comfortable as a lamb walking in the words of the Bible as much as an elephant feels comfortable swimming in those same words. May we each be surrounded in the light of life.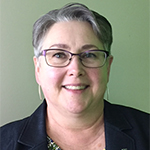 Beth Price is part of the customer care team at Diocesan. She is a Secular Franciscan (OFS) and a practicing spiritual director. Beth shares smiles, prayers, laughter, a listening ear and her heart with all of creation. Reach her here bprice@diocesan.com.
Feature Image Credit: Melissa Askew, https://unsplash.com/photos/8n00CqwnqO8