"Be vigilant at all times and pray that you may have the strength to stand before the Son of Man."
Death is a strange thing. I can still remember a moment in my childhood when I became aware of the reality of death. I remember asking my parents why everyone had to die. I think one of the most common reactions to death is uncertainty. In a world where so many things have been proven, learned and studied, death is one of those things that we still don't know much about.
In today's Gospel, Jesus calls us to be ready for the end. We must gird our loins and light our lamps and await the master's return. But He does not call us to do this out of fear or uncertainty, but rather so we can be certain that we will spend eternity with Him. He says in the first reading that He is our peace and that He will put death not to us, but to the division we have caused in our hearts.
Once He has put death to enmity, we will then be full members of the household of God. So as strange and unclear that death is, as unnatural as it is to our human condition, the thing that is really being put to death, in the end, is our sinfulness so we can rise victorious because of what Christ did for us on the cross.
You may have heard of the idea of the original sin being a happy fault because it gained for us so great a redeemer. It is kind of the same with death and the end times. These are now necessary parts of the human condition that strip away the brokenness, sin, hurt, and pain of this world so that we may go beyond death into eternal life.
This is what Christ gained for us. So when He says to be watchful and vigilant, He is calling us to have certainty that when the end comes, we will be among those good and faithful servants. He wants to replace our uncertainty with full knowledge of the world, He wants to put death to our old ways and raise us to new life, He wants us to be His people, His community, His household, happy with him forever because of the power of the cross. That is good news. God Bless!
"O Death, where is your sting?"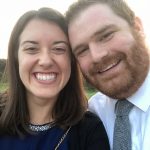 Tommy Shultz is a Solutions Evangelist for Diocesan. In that role, he is committed to coaching parishes and dioceses on authentic and effective Catholic communication. Tommy has a heart and a flair for inspiring people to live their faith every day. He has worked in various youth ministry, adult ministry, and diocesan roles. He has been a featured speaker at retreats and events across the country. His mission and drive have been especially inspired by St. John Paul II's teachings. Tommy is blessed to be able to learn from the numerous parishes he visits and pass that experience on in his presentations. Contact him at tshultz@diocesan.com.