As a part of Tom (mi esposo)'s discernment and formation for the diaconate, we have taken several classes on the Creed. So, when this last class came to the marks of the Church, I thought, "I've got this. I've taught this in CCD. I have them memorized. Bring it on."
Then in "The Creed" by Berard L. Mathaler I read:
"The marks of the Church are first of all gifts, but they need to be cultivated and nurtured. On the day of Pentecost, before it even moved outside of the gates of Jerusalem, the Church was ONE, HOLY, CATHOLIC and APOSTOLIC, (emphasis is his), and much as a newborn is every inch a human being even before it begins to grow and develop its innate gifts. It is the Christian's task to make the marks visible and recognizable."
Wait? What?
In all of my years of professing the Creed, I always took this as a descriptor, not a responsibility. As God draws our own hearts' back to himself this Lent, this puts an entirely new spin on my Lenten practices. Today's readings spell out exactly how this is to look in practice in my life.
In order to make the marks of the Church visible to the world, to have them live in my whole heart and be manifested in my actions today, I need to not defraud or rob my neighbor, not only of their physical goods but of their inherent human dignity. I need to neither show partiality to the weak nor deference to the mighty; rather acknowledging each as a child of God, a brother or sister in Christ regardless of what they believe or do. I can't spread slander among my kin nor stand idly by when my neighbor's life is at stake. I might rush to help someone who is not physically safe, but do I stand by as others jeopardize their immortal lives? I can take no revenge nor bear a grudge against my fellow countrymen. That means all of my countrymen; the ones I agree with and the ones I don't, the ones who were born here and the ones who came here in search of a better life. No revenge, I can't talk them down, move against them or even bear a grudge towards them or even wish that I could.
In the Gospel, Jesus tells us that when we do all this, we do it for him and to him. He is present in each and every person we encounter, those we embrace and those from whom we turn away.
So whatever your Lenten practice this year, try to take it one step deeper, one step farther. If you are denying yourself some cherished thing, offer that sacrifice for the good of another. If you are seeking new practices, such as prayer or spiritual reading, reach out to someone else and invite them to join you. If you can't give money as alms, give of yourself.
As we take this Lent to turn back to God with our whole heart, may our Lenten practices, guided by today's readings help us to live up to our call to be a sign of the one, holy, catholic, and apostolic Church in an aching and divided world.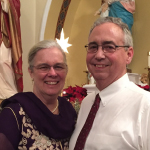 If you catch Sheryl sitting still, you are most likely to find her nose stuck in a book. It may be studying with her husband, Tom as he goes through Diaconate Formation, trying to stay one step ahead of her 5th and 6th-grade students at St Rose of Lima Catholic School or preparing for the teens she serves as Director of Youth Evangelization and Outreach in her parish collaborative. You can reach her through her through www.youthministrynacc.com.