One of my daughter's friends announced that she is non-binary, changing her name to Shawn, and using they/them pronouns. In response to questions she said she is more comfortable with these words in identifying who she feels she is.
How did we get here?
In the beginning, God created Adam and Eve. They lived happily in the garden until the evil one got involved and cast seeds of doubt. God told them that if they ate from the tree of the knowledge of good and evil they would die. Satan invited them to doubt the truth of God's words and death entered in..
"But the serpent said to the woman, "You will not die. For God knows that when you eat it your eyes will be opened, and you will be like God, knowing good and evil." (Gen 3:4-5)
Satan is at it again. This time he is sowing seeds of doubt about our identity. The creation story tells us we are made male and female. This is our identity. The gender fluidity movement says that's a lie – our gender is what we say it is not what God says it is.
He whispers, "You aren't a female just because your biology is female. You are what you think you are. You are what feels comfortable."
In today's Gospel we hear about who we really are. Our identity is as a fellow citizen with the holy ones. We are members of God's household. The truth of who we are, our true identity, is that we are His. We are his sons and daughters. We are male and female parts of a large family spanning time and space. We are part of something built upon and held together by Jesus Christ. We are a place where the Spirit dwells.
When we embrace our place as children of God we come to see the beauty of our created bodies and we value that creation. We don't pick our gender, we are blessed with our gender. Our gender is how we generate new life and God chooses whether we do that generating by creating seed or growing the new life inside us. It's one or the other and we can look at our bodies to figure out which it is.
Today we are reminded: we are not strangers to God. We belong to him. Our identity is as his children. We are not what the world says we are. We may not even be what we think we are. The truth is that we are who God says we are – beautiful children who belong to him. If we stay close to him, he will reveal more to us and we won't have to listen to any lies.
Claim your place in his household. Number yourself with the holy ones. Stand firm upon his foundation and let his spirit dwell within you.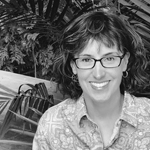 Merridith Frediani loves words and is delighted by good sentences. She also loves Lake Michigan, dahlias, the first sip of hot coffee in the morning, millennials, and playing Sheepshead with her husband and three kids. She writes for Catholic Mom, Diocesan.com, and her local Catholic Herald. Her first book Draw Close to Jesus: A Woman's Guide to Adoration is available at Our Sunday Visitor and Amazon. You can learn more at merridithfrediani.com.
Feature Image Credit: Juan Pablo Arias, https://www.cathopic.com/photo/14655-soy-un-hijo-dios