Each week, hopefully each day for many of us, we hear the words of Scripture. This can be at Mass, within a Bible study, spiritual reading, even a post-it note on your mirror. We have the incredible good fortune to be able to surround ourselves, visually and audibly, with Scripture. We have apps, audio books, websites, access to printed Bibles, pen, paper and many near-empty journals.
These are incredibly abundant blessings that so many throughout history have not received. Think about the early Christians who passed on the faith by word of mouth, secret meetings and liturgies for fear of persecution. Think of the countries where Catholicism was considered traitorous at various points in history. Think about the places in the world today where Christianity is still unwelcome and where it is potentially dangerous to have a Bible in your home.
We are able to have an abundance of Scripture in our lives. What happens when we experience abundance? Unfortunately, because of our fallen nature, abundance can easily give way to indifference and even neglect. We are to be hearers of the Word, but do we seek out opportunities to hear at all?
Jesus tells us today that those who hear the Word and act upon it are His mother and His brothers. Jesus is inviting His followers into such a close and intimate relationship with this interaction. Jesus is saying, "I don't want you to just know about me. I don't want you to think I have nice things to say, to talk about me at dinner parties as this guy I heard one time. I don't want to be your acquaintance, or even friend. I want you in my life as my mother is in my life."
While not everyone has an ideal relationship with their earthly mother, we can all have an ideal relationship with our heavenly mother. Jesus is inviting us to become little Mary's in the world. We do this by hearing His Word and acting upon it. What better summary could a person give to Mary's life than that? She heard the Word and, full of confidence and trust in her God, acted upon it. She cooperated with it and in doing so, she bore Christ for the salvation of the world.
This is what we are being invited into today. In hearing the Word of Jesus and acting upon it, we bring Christ forth into the world. We allow Him to work in us and through us to be made manifest in what we say and do.
---
Cada semana, y capáz cada día para muchos de nosotros, escuchamos las palabras de las Escrituras. Esto puede ser durante la Misa, dentro de un estudio bíblico, en lectura espiritual, o incluso una nota adhesiva en su espejo. Tenemos la increíble suerte de poder rodearnos, visual y audiblemente, con las Escrituras. Tenemos aplicaciones, audiolibros, sitios web, acceso a Biblias impresas, lápiz, papel y muchos diarios casi vacíos.
Estas son bendiciones increíblemente abundantes que muchos a lo largo de la historia no han recibido. Piensa en los primeros cristianos que transmitían la fe de boca en boca, reuniones y liturgias secretas por temor a la persecución. Piensa en los países donde el catolicismo fue considerado traidor en varios momentos de la historia. Piensa en los lugares del mundo actual donde el cristianismo aún no es bienvenido y donde es potencialmente peligroso tener una Biblia en su hogar.
Somos capaces de tener las Escrituras en nuestras vidas en abundancia. ¿Qué sucede cuando experimentamos la abundancia? Desafortunadamente, debido a nuestra naturaleza caída, la abundancia fácilmente puede dar paso a la indiferencia e incluso al descuido. Debemos oír la Palabra, pero ¿buscamos oportunidades para escucharla?
Jesús nos dice hoy que aquellos que escuchan la Palabra y la ponen en práctica son Su madre y Sus hermanos. Jesús está invitando a sus seguidores a una relación muy cercana e íntima con esta interacción. Jesús está diciendo: "No quiero que solo sepas de mí. No quiero que pienses que tengo cosas buenas que decir, que hables de mí en la cena como un tipo del que oí hablar una vez. No quiero ser tu conocido, ni siquiera tu amigo. Te quiero en mi vida como mi madre está en mi vida".
Si bien no todos tienen una relación ideal con su madre terrenal, todos podemos tener una relación ideal con nuestra madre celestial. Jesús nos invita a convertirnos en otras Marías en el mundo. Hacemos esto al escuchar Su Palabra y ponerla en práctica. Eso es la mejor resumen de la vida de María. Ella escuchó la Palabra y, llena de confianza y seguridad en su Dios, lo puso en práctica. Ella cooperó con él y, al hacerlo, dio a luz a Cristo para la salvación del mundo.
Esto es la invitación de hoy. Al escuchar la Palabra de Jesús y ponerla en práctica, traemos a Cristo al mundo. Permitimos que Él obre en nosotros y a través de nosotros se manifieste en lo que decimos y hacemos.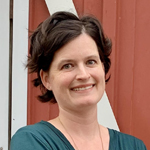 Kate Taliaferro is an Air Force wife and mother. She is blessed to be able to homeschool, bake bread and fold endless piles of laundry. When not planning a school day, writing a blog post or cooking pasta, Kate can be found curled up with a book or working with some kind of fiber craft. Kate blogs at DailyGraces.net.
Feature Image Credit: Oladimeji Ajegbile, www.pexels.com/photo/a-man-reading-indoor-2325729/