Jesus sent them in pairs. In today's Gospel, he sent them in pairs to go out the cities he would later visit. He essentially told them to bring nothing but their faith. He also knew full well that it would not be easy because he said: "I am sending you like lambs among wolves."
Our world today is full of wolves. So where is our buddy? If Jesus sent them in pairs, why am I alone?
You feel alone because you choose to be alone due to insecurities and you shouldn't.
I personally struggle with this a lot, so don't think that it's easy for me to say these things. Quite frankly, these blog articles are just as much for me as they are for you, the reader. When Jesus said to let the children come to me, he did not say "oh, but only if they are perfect," because he knows that we have flaws. When he embraces us, he embraces them and tells us to come as we are.
A couple of months ago, I confided in my friend about my history of depression/anxiety and she reminded me that self-doubt is the work of the devil. As I said, Jesus knows our flaws and still loves us, so why are we afraid of who we are? If the only person that can truly judge us can accept us, then why are we–no, why am I–so scared to be myself?
So when Jesus sends them in pairs, like lambs among wolves, He gives them faith and each other. He does not send them alone. In Genesis, Adam is given Eve. Likewise, we should not blindly cling to our pride or independence throughout our lives just because we think we will be judged. We were not put on earth to be alone, otherwise, we would be. I don't doubt that God has the power to isolate each of us, but he chose not to.
To clarify, I am not saying that as a woman, you need a man and as a man, you need a woman. What I am trying to say is that we are not on this planet alone, so we should act accordingly. You can be independent and still want someone to share your life with. It doesn't need to be a significant other. It can be a sibling or a friend. Regardless, you alone have the choice to bring people into your life or keep them out.
Bring faith into your life because life is hard. Keep faith in your life because it provides hope and peace. Similarly, we should invite people into our lives because life is hard. Keep people in your life because you are not alone. Even as we sit alone in our cars on the drive to work, we have our guardian angel, we have Jesus, we have God, we have the Holy Spirit, all waiting for us. We can find each of them in the people around us, but first, we have to set aside our Satan-inspired pride and insecurities.
So, today, set aside your pride and share your life with someone. Share your struggles and feel that sigh of relief knowing you are accepted. When someone shares their struggles with you, take a step to accept others as Jesus accepts them. Embrace their conversation and try to understand their struggles. Better yet, begin to accept yourself as he does, because everyone feels alone.
But we don't have to; he is with us.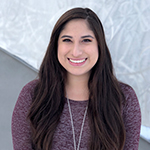 Veronica Alvarado is a born and raised Texan currently living in Michigan. Since graduating from Texas A&M University, Veronica has published various articles in the Catholic Diocese of Austin's official newspaper, the Catholic Spirit, and other local publications. She now works as the Content Specialist in Diocesan's Web Department.