The First Reading today lists some of the more profound miracles attributed to the prophet Elijah in the Old Testament. Elijah was a prophet who brought in an era of miracles and was succeeded by Elisha. Today we hear about how his words were like a flaming furnace and how he was taken aloft in a whirlwind of fire that included horses and a chariot. In order to understand the complex and profound connections of the Old and New Testaments, let's dive a little deeper into some of the relationships of the great prophets.
If we go back to Exodus, we see the calling of Moses and the many miracles attributed to his name, but we also know that Moses never made it to the Promised Land. He commissioned Joshua to finish the journey and become the next prophet who would perform wondrous miracles as well. Where did this transition of power take place? Joshua was blessed by Moses at the Jordan River. That's right, the exact same place where Elijah performs a miracle and then commissions Elisha to take over, and the very same place where John the Baptist pours water over Jesus. Moses begins a time of miracles that Joshua completes, just like Elijah and Elisha, and John the Baptist and Jesus. Taking an even deeper look, the second person of each group has a name that means, "God saves."
Again, the connection between the old and new is so profound that it couldn't possibly be a coincidence. Rather, we see the plan of God slowly unfolding through his prophets until we get to the ultimate goal, God himself. In today's First Reading we hear, "You were destined, it is written, in time to come to put an end to wrath before the day of the LORD." This was the whole point of a prophet, to prepare the way for Jesus. Fast forward to the Gospel and we hear that the scribes are still waiting on more prophets. They don't want to admit that the Son of Man has come to save all, so they continue to wait.
Sometimes I think we can fall into this trap as well. Maybe we are waiting for someone to come and clean up the mess of the world. Are we looking for an extraordinary Pope, a dynamic pastor, a courageous saint? While all of these could give great hope to many, we already have the hope we need. We have the promise of Jesus that the gates of hell will not prevail and that he has come to save us from our sins. Today, we have the same power that the prophets had. We have been given the grace of God to be great witnesses to his love. If we look at the world and don't see many miracles, perhaps the question is, are we asking for them? Do we believe that God has given us his power to care for those around us? Do we believe that Jesus still has as much power today as he did two thousand years ago?
Advent is a time to prepare the way for the Lord. Let's ask for the grace to be like the great prophets in the Old Testament, that we might prepare others for the coming of the Savior.
From all of us here at Diocesan, God bless!
---
La Primera Lectura de hoy enumera algunos de los milagros más profundos atribuidos al profeta Elías en el Antiguo Testamento. Elías fue un profeta que trajo una era de milagros y fue sucedido por Eliseo. Hoy escuchamos cómo sus palabras fueron como un horno en llamas y cómo fue llevado en un torbellino de fuego que incluía caballos y un carruaje. Para comprender las conexiones complejas y profundas del Antiguo y Nuevo Testamento, profundicemos un poco más en algunas de las relaciones de los grandes profetas.
Si volvemos al Éxodo, vemos el llamado de Moisés y los muchos milagros atribuidos a su nombre, pero también sabemos que Moisés nunca llegó a la Tierra Prometida. Le encargó a Josué que terminara el viaje y se convirtiera en el próximo profeta que también realizaría maravillosos milagros. ¿Dónde tuvo lugar esta transición de poder? Josué fue bendecido por Moisés en el río Jordán. Así es, exactamente el mismo lugar donde Elías realiza un milagro y luego encarga a Eliseo que se haga cargo, y el mismo lugar donde Juan el Bautista le echa agua sobre Jesús. Moisés inicia un tiempo de milagros que Josué completa, al igual que Elías y Eliseo, y Juan el Bautista y Jesús. Echando un vistazo aún más profundo, la segunda persona de cada grupo tiene un nombre que significa "Dios salva".
Nuevamente, la conexión entre lo antiguo y lo nuevo es tan profunda que no podría ser una coincidencia. Más bien, vemos el plan de Dios desarrollándose lentamente a través de sus profetas hasta llegar a la meta final, Dios mismo. En la Primera Lectura de hoy escuchamos: "Escrito está de ti que volverás, cargado de amenazas, en el tiempo señalado, para aplacar la cólera antes de que estalle". Este era el punto central de un profeta, preparar el camino para Jesús. Avance rápido al Evangelio y escuchamos que los escribas todavía están esperando más profetas. No quieren admitir que el Hijo del Hombre ha venido a salvar a todos, por lo que continúan esperando.
A veces pienso que nosotros también podemos caer en esta trampa. Tal vez estemos esperando que alguien venga y limpie el desorden del mundo. ¿Estamos buscando un Papa extraordinario, un pastor dinámico, un santo valiente? Si bien todo esto podría dar una gran esperanza a muchos, ya tenemos la esperanza que necesitamos. Tenemos la promesa de Jesús de que las puertas del infierno no prevalecerán y que ha venido a salvarnos de nuestros pecados. Hoy tenemos el mismo poder que tenían los profetas. Se nos ha dado la gracia de Dios para ser grandes testigos de su amor. Si miramos al mundo y no vemos muchos milagros, quizás la pregunta es, ¿los estamos pidiendo? ¿Creemos que Dios nos ha dado su poder para cuidar a los que nos rodean? ¿Creemos que Jesús todavía tiene tanto poder hoy como lo tenía hace dos mil años?
El Adviento es una temporada para preparar el camino al Señor. Pidamos la gracia de ser como los grandes profetas del Antiguo Testamento, para que podamos preparar a otros para la venida del Salvador.
De parte de todos nosotros aquí en Diocesan, ¡Dios los bendiga!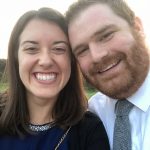 Tommy Shultz is a Business Development Representative for Diocesan. In this role he is committed to bringing the best software to dioceses and parishes while helping them evangelize on the digital continent. Tommy has worked in various diocese and parish roles since his graduation from Franciscan University with a Theology degree. He hopes to use his skills in evangelization, marketing, and communications, to serve the Church and bring the Good News to all. His favorite quote comes from St. John Paul II, who said, "A person is an entity of a sort to which the only proper and adequate way to relate is love."
Feature Image Credit: Worshae, unsplash.com/photos/bi5PCm_c1No