Today's Gospel is short, only 2 verses. When I first read it I thought to myself, "Now what in the world am I going to write about for this Gospel?! There's nothing there!" But there is so much packed into these 2 short verses.
In today's Gospel, we hear what seems to be talked about a lot less than Christ's miracles and His gathering of followers. We hear that His mission was not always easy. Throughout the years He spent preaching and performing miracles, He encountered countless people who rejected Him. Many thought that Christ was crazy, that he was "out of his mind". Despite sharing the Truth of salvation, He experienced harsh criticism and condemnation.
In the same way that Christ was mocked, ridiculed, and shunned for telling those around Him the Truth, so too do we risk being mocked, ridiculed, and shunned for our belief in the Truth. Yesterday (and throughout the month of January), all over the country hundreds of thousands of people marched for the rights of unborn babies. The United States Conference of Catholic Bishops recognizes today as a "Day of Prayer for the Legal Protection of Unborn Children". Those who stand for the dignity of human life in the womb are met with the same ridicule and the same bitter criticism that Christ faced in the Gospel.
St. John Paul the Great encouraged us in our mission of protecting the dignity of human life at all stages: "Never tire of firmly speaking out in defense of life from its conception and do not be deterred from the commitment to defend the dignity of every human person with courageous determination. Christ is with you: be not afraid!" In saying "Christ is with you", John Paul II did not mean merely on a spiritual level, although that is true too. Christ is with us in our battle to share the Truth about human life. He endured the same derision for speaking the same Truth.
May we find great comfort in uniting our suffering and the mockery we endure to that which Christ endured. In times of sorrow and frustration, may we seek His Holy Face and be reminded that He has already won the battle and place our hope and trust in Him.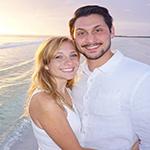 Dakota currently lives in Denver, CO and teaches English Language Development and Spanish to high schoolers. She is married to the love of her life, Ralph. In her spare time, she reads, goes to breweries, and watches baseball. Dakota's favorite saints are St. John Paul II (how could it not be?) and St. José Luis Sánchez del Río. She is passionate about her faith and considers herself blessed at any opportunity to share that faith with others. Check out more of her writing at https://dakotaleonard16.blogspot.com.
Feature Image Credit: https://www.cathopic.com/photo/4498-toda-vida-vale