How ironic that I write about today's Gospel, which includes the words "stay awake" while on a red-eye flight from Boise, Idaho, back to the east coast. Sadly, following Jesus' warning, at least while a passenger on that airplane, was not difficult, thanks to the noise and turbulence. In life, however, it is harder for me to stay awake, especially in the figurative sense, distracted by the continual din and busyness of the world around me. Even worse, allowing myself to fall asleep on maintaining a relationship with Jesus; forgetting the dire consequences Jesus warns will come upon those left unaware and unprepared for the Master's imminent return.
Attentive to this warning, I strive to be the blessed servant who will be found doing what the Master directs. Even though I live with many fears and some anxiety, I go where the Lord sends me, hence the red-eye home from Boise after giving a retreat. Serving Him and the people He loves, bringing them the Good News and messages of hope, is worth every uncomfortable moment. I never want to waste the gifts God has graced me with, knowing these are mine because He willed each one for a particular purpose and according to His perfect plan. I am honored to be His hands and voice, though perhaps I enjoyed doing so just a tiny bit more during the two years my life and ministry work, for the most part, was virtual.
I long to be a faithful and prudent servant, focusing on what I can do in any situation, especially challenging ones, and trusting Jesus to do the rest. Being awake to me means turning to the Lord in prayer in all things and seeking the grace needed to accomplish whatever mission is presented before me—leaning into God's abundant grace and trusting in all His promises because I believe them to be trustworthy.
Many years ago, driving home from adoration with many things heavy on my heart, I asked the Lord for assurance that He truly does keep His promises. As I sat at the stoplight in front of my house, continuing to ponder and pray upon this question, a giant truck passed by with the words "keeping promises" emblazoned across the side. I laughed at the sweet "godcidental" timing of the truck crossing my path. Tears welled in my eyes as I thanked the Lord for His merciful and speedy response to my prayer.
Being awake and aware of His faithfulness, goodness, and abundant grace helps me prepare for that unknown hour when the Son of Man will come. Blessed by a willingness to be courageous and brave, to serve as I keep watch, even if that means being petrified 30,000 feet in the air. It is incredible what grace can do. St. Katharine Drexel's sister offered her an all-expense paid cruise, but she kindly declined, saying she only gets on boats for Jesus. I totally get it, St. Katherine, as I only get on planes for Jesus!
---
Qué irónico que estoy escribiendo sobre el Evangelio de hoy, que incluye las palabras "mantente despierto" durante un vuelo nocturno desde Boise, Idaho, de regreso a la costa este. Lamentablemente, seguir la advertencia de Jesús, al menos como pasajero en ese avión, no fue cosa difícil, a causa del ruido y la turbulencia. En la vida, sin embargo, me es más difícil mantenerme despierto, especialmente en el sentido figurado, distraído por el continuo estruendo y el ajetreo del mundo que me rodea. Peor aún, permitirme dormirme en mi relación con Jesús; olvidándome de las terribles consecuencias que Jesús advierte que vendrán sobre aquellos que no sepan y no estén preparados para el inminente regreso del Maestro.
Atento a esta advertencia, me esfuerzo por ser el siervo bendito que se encontrará haciendo lo que el Maestro le indique. Aunque vivo con muchos miedos y algo de ansiedad, voy donde el Señor me manda, y por eso me encontraba regresando a casa de Boise después de dar un retiro. Servir a Él y a las personas que Él ama, llevándoles la Buena Nueva y los mensajes de esperanza, vale la pena cada momento incómodo. Nunca quiero desperdiciar los dones que Dios me ha dado, sabiendo que son míos porque Él quiso cada uno para un propósito particular y de acuerdo a Su plan perfecto. Me siento honrado de ser sus manos y su voz, aunque tal vez disfruté hacerlo un poco más durante los dos años en los que mi vida y mi ministerio, en su mayor parte, fueron virtuales.
Anhelo ser un siervo fiel y prudente, enfocándome en lo que puedo hacer en cualquier situación, especialmente en las desafiantes, y confiando en que Jesús hará el resto. Estar despierto para mí significa volverme al Señor en oración en todas las cosas y buscar la gracia necesaria para cumplir cualquier misión que se me presente, apoyándome en la abundante gracia de Dios y confiando en todas Sus promesas porque creo que son dignas de confianza.
Hace muchos años, cuando regresaba a casa después de la adoración con muchas cosas que me pesaban en el corazón, le pedí al Señor que me asegurara que Él verdaderamente cumple Sus promesas. Mientras estaba sentado en el semáforo frente a mi casa, sin dejar de meditar y orar sobre esta pregunta, pasó un camión gigante con las palabras "cumpliendo promesas" estampadas en el costado. Me reí de la dulce "Dios-cidencia" del momento preciso que el camión se cruzó en mi camino. Las lágrimas brotaron de mis ojos mientras agradecía al Señor por su misericordiosa y rápida respuesta a mi oración.
Estar despierta y consciente de Su fidelidad, bondad y abundante gracia me ayuda a prepararme para esa hora desconocida en la que vendrá el Hijo del Hombre. Bendecida por la voluntad de ser valiente, de servir mientras vigilo, incluso si eso significa estar con un miedo a los 30,000 pies de altura. Es increíble lo que la gracia puede hacer. La hermana de St. Katharine Drexel le ofreció un crucero con todos los gastos pagados, pero ella lo rechazó amablemente, diciendo que solo se sube a los barcos para Jesús. Lo entiendo totalmente, St. Katherine, ya que ¡yo solo me subo a los aviones para Jesús!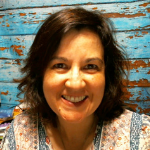 Allison Gingras is a Deacon's wife and seasoned mom of three. Allison works for Family Rosary as a social media and digital specialist, as well as a new media consultant for Catholic Mom and the Diocese of Fall River. She is the author of Encountering Signs of Faith: My Unexpected Journey with Sacramentals, the Saints, and the Abundant Grace of God (Fall 2022, Ave Maria Press). Allison developed the Stay Connected Journals for Women series including her two volumes – The Gift of Invitation and Seeking Peace (OSV). She's hosted A Seeking Heart with Allison Gingras podcast since 2015.
Feature Image Credit: DaniloBueno, pixabay.com/photos/night-flight-plane-airport-2307018/
The views and opinions expressed in the Inspiration Daily blog are solely those of the original authors and contributors. These views and opinions do not necessarily represent those of Diocesan, the Diocesan staff, or other contributors to this blog.