What remarkable words spoken by St. Paul in today's First Reading. "The cup of blessing that we bless, is it not a participation in the Blood of Christ? The bread that we break, is it not a participation in the Body of Christ" (1 Cor 10:16)? The Eucharist is not merely something in which we partake but someone we are, quite honestly, blessed beyond measure to receive.
"How shall I make a return to the LORD for all the good he has done for me" (Psalm 116:13)? The Psalmist poses a prodigious question to ponder. In other words, how will I make a sacrifice of praise to my Lord? The sacrifice God asks for is one of praise, not of blood. The latter has already been offered—once and for all. And it is made present again at every Liturgy—existing in every tabernacle in the world, furthermore, humbling Himself even further, to become fully present in every living tabernacle—those who worthily approach the altar to receive Him in Consecrated Bread and Wine. Perhaps the answer dwells within our Eucharistic testimony. How has sharing in the cup of blessing formed me as a disciple? Can others see Christ in me?
We are not merely figuratively in communion with the Lord, but it is He who comes to us—Body, Blood, Soul, and Divinity—in the Eucharist. Christ is not alone; through the divine Unity of the Trinity, although not sacramentally, the Father and the Holy Spirit become present with Jesus in the Eucharist. Although a mystery which, this side of heaven, can never be fully explained, the Catechism teaches that each Person of the Trinity is "wholly" present in each other (CCC #254-55). In the Consecration, heaven and earth mystically collide; Jesus does not leave Paradise so that we may encounter Him in the Eucharist.
Jesus provided the sacrifice upon the cross so that every soul may have the opportunity to be with him in heaven. And while we wait, He humbly offers himself in the Eucharist, comprising grace upon grace. The mystical body of Christ is vast and magnificent, and by approaching the altar worthily during the Holy Sacrifice of the Altar, we become a living tabernacle. It is a tremendous honor to be a Eucharistic people.
As St. Irenaeus stated, "In brief, the Eucharist is the sum and summary of our faith: Our way of thinking is attuned to the Eucharist, and the Eucharist in turn confirms our way of thinking." But does it, personally, do that for us? Has the Eucharist changed your life? If it has not, take the opportunity every Mass to "ask, seek, knock" and allow the Lord to open to you every grace and blessing generously available in this Blessed Sacrament. Embrace the goodness poured into us through sharing in the blessing cup and the Body of Christ to be a good tree, "known by its own fruit…[because] a good person out of the store of goodness in his heart produces good."
---
Qué notables palabras pronunciadas por San Pablo en la Primera Lectura de hoy. "El cáliz de la bendición con el que damos gracias, ¿no nos une a Cristo por medio de su sangre?" (1 Cor 10, 16)? La Eucaristía no es simplemente algo en lo que participamos, sino alguien que somos, honestamente, somos bendecidos más allá de toda medida por poder recibirlo.
"¿Cómo le pagaré al Señor todo el bien que me ha hecho?" (Salmo 116:13) El salmista plantea una pregunta prodigiosa para reflexionar. En otras palabras, ¿cómo haré un sacrificio de alabanza a mi Señor? El sacrificio que Dios pide es de alabanza, no de sangre. Este último ya ha sido ofrecido, de una vez por todas. Y se vuelve a hacer presente en cada Liturgia — existiendo en cada sagrario del mundo, además, humillándose aún más, para hacerse plenamente presente en cada tabernáculo viviente — a los que dignamente se acercan al altar para recibirlo en el Pan y el Vino Consagrados. Quizá la respuesta resida en nuestro testimonio eucarístico. ¿Cómo me ha formado como discípulo el compartir la copa de bendición? ¿Otros pueden ver a Cristo en mí?
No estamos en comunión con el Señor solo figurativamente, sino que es Él quien viene a nosotros —Cuerpo, Sangre, Alma y Divinidad— en la Eucaristía. Cristo no está solo; por la Unidad divina de la Trinidad, aunque no sacramentalmente, el Padre y el Espíritu Santo se hacen presentes con Jesús en la Eucaristía. Aunque es un misterio que, de este lado del cielo, nunca puede ser completamente explicado, el Catecismo enseña que cada Persona de la Trinidad está "totalmente" presente en cada uno (CCC #254-55). En la Consagración, el cielo y la tierra chocan místicamente; Jesús no deja el Paraíso para que podamos encontrarlo en la Eucaristía.
Jesús proveyó el sacrificio sobre la cruz para que cada alma tenga la oportunidad de estar con él en el cielo. Y mientras esperamos, se ofrece humildemente en la Eucaristía, que comprende gracia sobre gracia. El cuerpo místico de Cristo es vasto y magnífico, y al acercarnos dignamente al altar durante el Santo Sacrificio del Altar, nos convertimos en un tabernáculo viviente. Es un tremendo honor ser un pueblo eucarístico.
Como dijo San Ireneo: "En resumen, la Eucaristía es la suma y el resumen de nuestra fe: nuestra forma de pensar está en sintonía con la Eucaristía, y la Eucaristía a su vez confirma nuestra forma de pensar". Pero, personalmente, ¿hace eso por nosotros? ¿La Eucaristía ha cambiado tu vida? Si no es así, aprovecha cada Misa para "pedir, buscar, llamar" y permitir que el Señor te abra todas las gracias y bendiciones generosamente disponibles en este Santísimo Sacramento. Acoger la bondad derramada en nosotros al compartir la copa de bendición y el Cuerpo de Cristo para ser un buen árbol que se, "se conoce por sus frutos… [porque] el hombre bueno dice cosas buenas, porque el bien está en su corazón".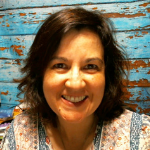 Allison Gingras is a Deacon's wife and seasoned mom of three. Allison works for Family Rosary as a social media and digital specialist, as well as a new media consultant for Catholic Mom and the Diocese of Fall River. She is the author of Encountering Signs of Faith: My Unexpected Journey with Sacramentals, the Saints, and the Abundant Grace of God (Fall 2022, Ave Maria Press). Allison developed the Stay Connected Journals for Women series including her two volumes – The Gift of Invitation and Seeking Peace (OSV). She's hosted A Seeking Heart with Allison Gingras podcast since 2015.
Feature Image Credit: Skitterphoto, pixabay.com/photos/apple-tree-garden-green-fruit-970352/
The views and opinions expressed in the Inspiration Daily blog are solely those of the original authors and contributors. These views and opinions do not necessarily represent those of Diocesan, the Diocesan staff, or other contributors to this blog.