The Responsorial Psalm for today says: "The glory of the Lord will dwell in our land."
When Jesus walked on Earth and people heard Him speak, they could not help but become excited. They were on fire for the truths He taught. And He charged them to go out and spread the Good News. He charges us to do the same.
Where the Good News is taught and believed, there indeed will the glory of the Lord be seen.
But too often today people brush aside morality. They want to create a "woke" culture where everyone can do what he wants, as long as it feels good.
Yet we know that the glory of our Lord does not reside in a culture that devalues human beings. This culture of death has its grips on society now more than ever. With laws allowing the killing of preborn babies and the euthanizing of the elderly and disabled, and with hatred apparent in so many violent acts around the country, we may feel tempted to lose hope. We may wonder where God is when so many Godless acts pervade our daily lives.
But God has not forsaken us. Though terrible and devastating things happen, and though it may be difficult to see or feel His glory at times, it is ever present.
We can see it in the beauty of nature, in the smile of a stranger, in the helping hand of a neighbor, in the acts of those who stand up for the tenets of our faith, in the kind word of a spouse or child, and in so much more!
And, through our actions, we can help others see the glory of God. We live our lives as God would want us to live them, not as 21st century culture wants. We are not accountable to the media, to political leaders, or to anyone else. We are accountable to God.
At the end of our lives, God will ask us what we did to glorify Him on Earth. He will ask us how we helped build a culture that respected and revered human beings. He will ask us how we changed lives for the better. He will want to know how we used His gifts to glorify Him and lead others to Him.
What will be our answer? And will this answer please Him?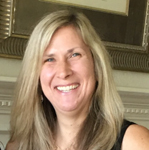 Susan Ciancio has a BA in psychology and a BA in sociology from the University of Notre Dame, with an MA in liberal studies from Indiana University. For the past 17 years, she has worked as a professional editor and writer, editing both fiction and nonfiction books, magazine articles, blogs, educational lessons, professional materials and website content. Eleven of those years have been in the pro-life sector. Currently Susan freelances and writes weekly for HLI, edits for American Life League, and is the editor of Celebrate Life Magazine. She also serves as executive editor for the Culture of Life Studies Program-an educational nonprofit program for K-12 students.
Feature Image Credit: Fiore Bagatello, https://www.cathopic.com/photo/4755-arcoiris