"You are in error because you do not know the Scriptures or the power of God." Matthew 22:29
This verse from Matthew coupled with the first reading for today really make me ask the question. Do I know the power of God? I mean, I know God is powerful. I know He created the world. I know if He wants to do anything it will happen. But I don't know that I believe that any of this power can be applied personally to me.
I think this is one of the major problems in our world today. We all need healing, hope, miracles, love, and power, but yet we don't believe it is possible to receive any of this. We have lost faith.
Typically when faith in God is lost we disregard Him because we think He is holding out on us. We ask for one outrageous thing after another and when we don't receive it exactly as we asked, then it is God's fault and He doesn't love us. We want our desires to be fulfilled no matter how twisted, instead of looking to the source of all desire and resting in the hope that He loves us.
C.S. Lewis once wrote,
"It would seem that Our Lord finds our desires not too strong, but too weak. We are half-hearted creatures, fooling about with drink and sex and ambition when infinite joy is offered us, like an ignorant child who wants to go on making mud pies in a slum because he cannot imagine what is meant by the offer of a holiday at the sea. We are far too easily pleased."
It's as if God looks at our requests and says, "that's it? I want to give you so much more. Please let me." But we are content with our mediocre desires. We are content being gods in our own little worlds where we claim God is holding out so we start to do everything ourselves.
Adam and Eve had this same problem. They thought God was holding out on them and not making them perfectly happy, so they turned to their twisted desires for satisfaction and found that they came up empty.
Monsignor Lorenzo Albacete once said, "The only temptation we face on this earth is the temptation to believe that God does not want to fill the deepest desires of our hearts."
This was the struggle of Adam and Eve. This was the struggle of the people in the first reading. This is the struggle of you and me. Today, as we reflect on this scripture, lets pray for God to fill the deepest desires of our hearts, and then believe with certainty that He will, because He loves us.
"The LORD's fire came down
and consumed the burnt offering, wood, stones, and dust,
and it lapped up the water in the trench.
Seeing this, all the people fell prostrate and said,
The LORD is God! The LORD is God!"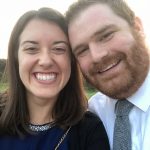 Tommy Shultz is a Solutions Evangelist for Diocesan. In that role, he is committed to coaching parishes and dioceses on authentic and effective Catholic communication. Tommy has a heart and a flair for inspiring people to live their faith every day. He has worked in various youth ministry, adult ministry, and diocesan roles. He has been a featured speaker at retreats and events across the country. His mission and drive have been especially inspired by St. John Paul II's teachings. Tommy is blessed to be able to learn from the numerous parishes he visits and pass that experience on in his presentations. Contact him at tshultz@diocesan.com.