In today's Gospel reading, we hear about the Syrophoenician woman who begged Jesus to drive the demon out of her daughter. At first, Christ responds that "it is not right to take the food of the children and throw it to the dogs," and without understanding the context, we might find this comment a bit strange. But, as Fr. Mike Schmitz teaches, Christ isn't being cruel. He's reminding the woman that He has come here for the Jews first and that through them, the entire world will be saved.
The woman understands that, yet she persists. She asks again, telling Christ that she knows He can heal, that she believes in Him, and that she trusts Him. Christ then heals her daughter.
Trust in God can be so difficult, can't it? Many of us have so many prayers in our hearts. We sometimes feel that we don't have enough time to pray for ourselves, let alone all those who need our prayers. It can become overwhelming. And it can be frustrating when our prayers aren't answered right away—or maybe even not at all.
Furthermore, when good-intentioned people tell us that God has a plan, their words can frustrate us even more. Why? Because those words are not truly helpful.
Yes, fundamentally we understand that God has a plan. But when someone simply tells us that, it feels dismissive. It doesn't feel like beneficial advice when we're hurting or when we see the ones we love in pain.
At times like this, it can be helpful to think of people like the Syrophoenician woman or to remember the struggles of saints like Monica or Francis de Sales. These people remind us of the importance of trust.
You see, trust in God does not mean we trust that He will answer our prayers and give us what we want. Sometimes God says no. And sometimes He says not yet. But trust in God helps us understand that what He always says is "I love you, and you are Mine."
That love teaches us that God is always listening and that He will never abandon us. He always hears our prayers, and He understands our pain. In fact, He aches with us.
God wants what's best for us. He can see everything, where our sight has limitations.
Trust is understanding our limitations. It is praying the prayer Christ prayed in the Garden of Gethsemane—not my will, but Yours, Lord.
Trust encourages us to take our unceasing prayers to God. Trust helps us persist in those prayers. Trust gives us solace when we feel overwhelmed with hopelessness. And trust teaches that God will never abandon us. If we want proof of that, we need only look at His broken body on the cross.
---
En la lectura del Evangelio de hoy, escuchamos sobre la mujer sirofenicia que le rogó a Jesús que sacara el demonio de su hija. Al principio, Cristo responde que "No está bien quitarles el pan a los hijos para echárselo a los perritos", y sin entender el contexto, tal vez nos parezca un poco extraño este comentario. Pero, como el P. Mike Schmitz enseña, Cristo no está siendo cruel. Él le está recordando a la mujer que había venido primero por los judíos y que a través de ellos, el mundo entero se salvaría.
La mujer entiende eso, pero persiste. Ella vuelve a preguntar, diciéndole a Cristo que sabe que Él puede sanar, que cree en Él y que confía en Él. Cristo entonces sana a su hija.
La confianza en Dios puede ser tan difícil, ¿no? Muchos de nosotros tenemos tantas oraciones en nuestros corazones. A veces sentimos que no tenemos suficiente tiempo para orar por nosotros mismos, y mucho menos para todos aquellos que necesitan nuestras oraciones. Puede volverse abrumador. Y puede ser frustrante cuando nuestras oraciones no son respondidas de inmediato, o tal vez nunca.
Además, cuando personas con buenas intenciones nos dicen que Dios tiene un plan, sus palabras pueden frustrarnos aún más. ¿Por qué? Porque esas palabras no son realmente útiles.
Sí, fundamentalmente entendemos que Dios tiene un plan. Pero cuando alguien simplemente nos dice eso, se siente desdeñoso. No se siente como un consejo beneficioso cuando estamos heridos o cuando vemos a los que amamos sufriendo.
En momentos como este, puede ser útil pensar en personas como la mujer sirofenicia o recordar las batallas de los santos como Mónica o Francisco de Sales. Estas personas nos recuerdan de la importancia de confiar en Dios.
Confiar en Dios no significa que confiemos que va a contestar nuestras oraciones y nos va a dar lo que queremos. A veces Dios dice que no. Y a veces dice que todavía no. Pero la confianza en Dios nos ayuda a entender que lo que siempre nos dice es "Te amo y eres mío".
Ese amor nos enseña que Dios siempre está escuchando y que nunca nos abandonará. Siempre escucha nuestras oraciones y entiende nuestro dolor. De hecho, Él sufre con nosotros.
Dios quiere lo mejor para nosotros. Él puede ver todo, mientras nuestra vista es limitada.
La confianza es entender nuestras limitaciones. Es orar la oración que Cristo oró en el Huerto de Getsemaní, no mi voluntad, sino la Tuya, Señor.
La confianza nos anima a llevar nuestras incesantes oraciones a Dios. La confianza nos ayuda a persistir en esas oraciones. La confianza nos da consuelo cuando nos sentimos abrumados por la desesperanza. Y la confianza enseña que Dios nunca nos abandonará. Si queremos prueba de eso, solo tenemos que mirar Su cuerpo quebrantado en la cruz.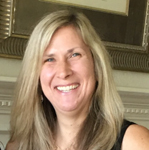 Susan Ciancio has a BA in psychology and a BA in sociology from the University of Notre Dame, with an MA in liberal studies from Indiana University. For the past 19 years, she has worked as a professional editor and writer, editing both fiction and nonfiction books, magazine articles, blogs, educational lessons, professional materials and website content. Thirteen of those years have been in the pro-life sector. Currently Susan freelances and writes weekly for HLI, edits for American Life League, and is the executive editor of Celebrate Life Magazine. She also serves as executive editor for the Culture of Life Studies Program—an educational nonprofit program for K-12 students. You can reach her at slochner0.wixsite.com/website.
Feature Image Credit: Asociación San Juan Apóstol, cathopic.com/photo/9096-tu-poder-triunfa-en-mi-debilidad