Sometimes your tongue just gets away from you, doesn't it? I know mine does. I just feel the "need" to complain about that one little thing and before I know it, I'm ranting about something else and something else and something else. Once the seed of negativity is sown, it is very hard to uproot it.
And the funny thing is, many of the things that bother us are really based on assumptions. "I just know when she looked at me that way she was thinking how awful my haircut looked." "She knows what kind of morning I've had, and there she goes getting upset at me and ruining my afternoon too!" "I know that comment was aimed at me. Surely they gossiped about me behind my back and that's why they said that." "He wasn't kidding. He was being passive aggressive."
Our society has become highly non confrontational. Instead of calling someone, we text them. Instead of having a conversation in person, we chat on social media. Instead of clarifying with someone what we think to be true, but aren't really sure is true, we create realities in our minds that may or may not even be factual. And then we let our thoughts wander farther and farther until we fall into the pit of anger or despair.
If only I had the wherewithal in these moments to call on God in His infinite wisdom to muddle through my thoughts and feelings. Our First Reading tells us: "The Most High possesses all knowledge…He makes known the past and the future, and reveals the deepest secrets. No understanding does he lack; no single thing escapes him."
He knows what that person was looking at, and it wasn't your hair. It was their concern that you looked sad. He knows that the other person had just as bad a morning as you had and just happened to blow up while you were standing there. He knows that that comment was meant for the good of the team and not at anyone in particular. He knows that that person really was just kidding.
So instead of allowing negativity to seep in and Debby Downer to overtake our day, maybe we can try to remember to thank God for all His blessings and exclaim together with the Old Testament writer: "How beautiful are all his works!" And then as we ask God for forgiveness from our ungrounded assumptions, may we exclaim with blind Bartimaeus from today's Gospel, "Jesus, Son of David, have pity on me!"
---
A veces la lengua simplemente se nos escapa, ¿no? Sé que el mío sí. Siento la "necesidad" de quejarme de esa pequeña cosa y antes de darme cuenta, estoy hablando mal sobre una cosa y otra cosa y otra cosa. Una vez que se siembra la semilla de la negatividad, es muy difícil arrancarla de raíz.
Y lo curioso es que muchas de las cosas que nos molestan están basadas en suposiciones. "Yo sé que cuando me miró de esa manera, estaba pensando en lo horrible que se veía mi corte de cabello". "Ella sabe el tipo de mañana que he tenido, ¡y ahí va enojándose conmigo y arruinando mi tarde también!" "Sé que ese comentario estaba dirigido a mí. Seguramente chismearon sobre mí y por eso dijeron eso". "Ese no estaba bromeando. Estaba siendo pasivo agresivo".
Nuestra sociedad se ha vuelto altamente no conflictiva. En lugar de llamar a alguien, le enviamos un mensaje de texto. En lugar de tener una conversación en persona, chateamos en las redes sociales. En lugar de aclarar con alguien lo que creemos que sea cierto, pero no estamos realmente seguros de que sea cierto, creamos realidades en nuestras mentes que pueden o no ser factuales. Y luego dejamos que nuestros pensamientos divaguen más y más hasta que caemos en el abismo de la ira o la desesperación.
Si tan solo tuviera los medios en estos momentos para invocar a Dios en su infinita sabiduría para confundir mis pensamientos y sentimientos. Nuestra Primera Lectura nos dice: "[El Altísimo] posee toda la ciencia…; descubre lo pasado, anuncia lo futuro y revela los más recónditos misterios. Ningún pensamiento se le oculta, ninguna cosa se le escapa."
Él sabe lo que esa persona estaba mirando, y no era tu cabello. Les preocupaba que te vieras triste. Él sabe que la otra persona tuvo una mañana tan mala como la tuya y explotó mientras estabas parado allí. Sabe que ese comentario fue por el bien del equipo y no fue dirigido a nadie en particular. Él sabe que esa persona realmente estaba bromeando.
Entonces, en lugar de permitir que la negatividad nos entre y se apodere de nuestro día, tal vez podamos intentar recordar agradecer a Dios por todas sus bendiciones y exclamar junto con el escritor del Antiguo Testamento: "¡Qué preciosas son las obras del Señor!" Y luego, mientras le pedimos perdón a Dios por nuestras suposiciones sin fundamento, exclamemos con el ciego Bartimeo del Evangelio de hoy: "¡Jesús, Hijo de David, ten compasión de mí!"
Feature Image Credit: Senjuti Kundu, unsplash.com/photos/JfolIjRnveY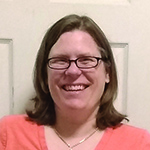 Tami Urcia grew up in Western Michigan, a middle child in a large Catholic family. She spent early young adulthood as a missionary in Mexico, studying theology and philosophy, then worked and traveled extensively before finishing her Bachelor's Degree in Western Kentucky. She loves tackling projects, finding fun ways to keep her little ones occupied, quiet conversation with the hubby and finding unique ways to love. She works full time, is a guest blogger on CatholicMom.com and BlessedIsShe.net, and has been doing Spanish translations on the side for over 20 years.