Do you ever have those days when you wish Jesus would return – now? The world often seems like it is permanently opposite day where right is wrong, up is down and near is far. And in these verses of Luke, we hear another opposite posed to us, with a caveat. If the master returns and the servants are doing as they ought to be doing, they will be waited upon by the master.
Jesus is turning people's world upside down. He is showing us in this passage that when he comes, life will be different. Indeed, he showed us this in his public ministry, yet many chose not to believe, not to follow him. Jesus turned the world upside down; his passion, death and resurrection allow us to know, love and serve God and one day enter heaven.
Do we allow Jesus to turn our world upside down? That's a serious question. To me, it means, have I given all to him, have I surrendered? One day, while contemplating Scripture, I wrote, "to know Christ is above all things so that losing all things does not matter." Okay, not the best grammatical sentence, but when I came across it again, I realized that is a spiritual goal for me. He is above all things, all people – Jesus is the Master. And yet, if we are doing the work we are created to do when Jesus comes, we will be waited on by him.
When we contemplate what our own vigilant waiting looks like, it helps to remember that whatever we give up for Jesus we receive back more than we can imagine. It may not be here in this world, but it will be given to us when we need it the most. In God's time. And so now we wait on God's perfect time, for Jesus to return. We do not know when, but let us keep our eyes on the Lord and our minds, bodies and souls alert in vigilant waiting, out of our great love for God.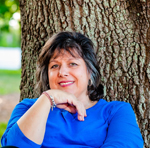 Deanna G. Bartalini, is a Catholic writer, speaker, educator and retreat leader. She is the founder of the LiveNotLukewarm.com community, a place to inform, engage and inspire your Catholic faith through interactive Bible studies, courses and book clubs. Her weekly podcast, NotLukewarmPodcast.com, gives you tips and tools to live out your faith. At DeannaBartalini.com she writes about whatever is on her mind at the moment.
Feature Image Credit: Jeanne Rouillard, https://unsplash.com/photos/txVwsCuWC94