"You also must be prepared for at an hour you do not expect, the Son of Man will come."
Spending five months recently in my parents' apartment as a caregiver has given me a deeper insight into this Gospel.
We are told to wait expectantly for the Master's return, to be alert to that moment when the Lord Jesus will return to take us into eternity, as well as to the moment when Christ the King will return in glory on the last day.
Be alert and at work, treating others justly and doing your duty. He whom the Master finds conducting himself in this way will be rewarded.
For all of us, those last 10 or 15 years waiting for the Master's return are definitely times of being alert. Alert to one's own changing issues around health and that of the loved one we may be caring for. Alert to insurance issues and long-term care preparation. Alert to the questions surrounding the time to begin nursing home care, move someone into memory care or arrange for at-home care. Rather than "staying awake" these years can be filled with sleepless days and nights where we toss and turn from exhaustion, worry, financial concerns, wondering how do we best love. We could find ourselves overwhelmed with the love we are trying to show our spouse and the feelings of grief and guilt, and just feeling we are not-enough for the daily multiplying needs…. Our own and others…
Jesus says that he will come at a moment we don't expect, and yet we spend YEARS preparing for it on every level. Years of love, of service, of suffering, of surrender, of doing to Jesus what we are doing for another. Jesus' coming is not tomorrow or next year. He comes suddenly and unexpectedly into our midlife and aging lives TODAY. He comes not to check up on us. No. In the struggle of these aging-years, struggles that seem to just compound over time, Jesus is gathering us to himself, through the tender endless acts of love rendered at every moment to each other, to spouse, parent, child, relative…. "Come, you who are blessed by my Father; take your inheritance, the kingdom prepared for you since the creation of the world…. Truly I tell you, whatever you did for one of the least of these brothers and sisters of mine, you did for me" (See Mt. 25:34-40).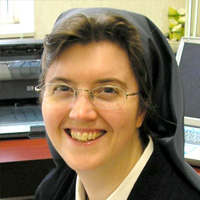 Kathryn James Hermes, FSP, is the author of the newly released title: Reclaim Regret: How God Heals Life's Disappointments, by Pauline Books and Media. An author and spiritual mentor, she offers spiritual accompaniment for the contemporary Christian's journey towards spiritual growth and inner healing. She is the director of My Sisters, where people can find spiritual accompaniment from the Daughters of St. Paul on their journey. Website: www.touchingthesunrise.com Public Facebook Group: https://www.facebook.com/groups/srkathrynhermes/ For monthly spiritual journaling guides, weekly podcasts and over 50 conferences and retreat programs join my Patreon community: https://www.patreon.com/srkathryn.
Feature Image Credit: Sabine van Erp, Pixabay.com