In today's first reading, from St. Paul's letter to Timothy, Paul asks for prayers for everyone, including kings and those in authority, "that we may lead a quiet and tranquil life in all devotion and dignity." Paul's point seems to be that Jesus came to save all the world, Jew and Gentile alike, and we have a role in that salvation by bringing Jesus to those who don't know Him or are seeking Him.
Luke's Gospel confirms that point with the story of the centurion who sought Jesus to provide healing for his slave. You've got to really think about what's going on here. A centurion, of course, was a Roman soldier of some authority, having command of a group of 100 men. He was responsible for their training and discipline, leading and directing them on the battlefield. He usually was from the common people, not of noble birth, and he usually worked his way up to the rank of centurion. And thus, he was paid nicely for the position.
Meanwhile, this particular Roman soldier of some authority happened to be in the occupied territory of Palestine, in control of the conquered Jewish people. While his soldiers respected and followed him, the Jews most likely despised him, but despite their contempt, they knew he could make their lives even more miserable, or end them entirely, if they did not do what he said.
And so, in that setting, the centurion finds his slave sick and dying. A man of his military stature could easily get another slave, but his attachment to this slave, his love for him, if you will, made the centurion seek someone else who appeared to be of some authority: Jesus of Nazareth. Word had reached him of this Galilean preacher who went about healing the sick, and he chose to contact him for his slave in need.
And so Luke gives us a teachable moment here: Look more closely at your enemies, at those you don't agree with, at those who don't like you, or those with authority over you. They, too, have a humanity given to them by God, just like you do. And that humanity is worth saving from sin, worth bringing the word of God to, worth converting and, yes, worth loving.
But there's one more attribute of the centurion that Luke points out: his humility. The centurion trusted that Jesus could save his slave. Yet he sent others to speak to Jesus, and even had them tell Jesus, "Lord, do not trouble yourself, for I am not worthy to have you enter under my roof. Therefore, I did not consider myself worthy to come to you; but say the word and let my servant be healed."
We echo those words at every Mass, when we are presented the Body of Christ and invited to partake of His flesh and blood. We are not worthy, and we know it. The centurion was not worthy, and he knew it, yet he knew Jesus had the power to save. May we also have that confidence in our Savior, and may we bring that confidence in the Lord to others.
---
En la primera lectura de hoy, de la carta de San Pablo a Timoteo, Pablo pide oraciones por todos, incluyendo los reyes y las autoridades, "para que podamos llevar una vida tranquila y en paz, entregada a Dios y respetable en todo sentido". El punto de Pablo parece ser que Jesús vino a salvar a todo el mundo, judíos y gentiles por igual, y tenemos un papel en esa salvación al llevar a Jesús a aquellos que no lo conocen o lo buscan.
El Evangelio de Lucas confirma ese punto con la historia del centurión que buscó a Jesús para que curara a su esclavo. Tienes que pensar realmente en lo que está pasando aquí. Un centurión, por supuesto, era un soldado romano de cierta autoridad, al mando de un grupo de 100 hombres. Él era responsable de su entrenamiento y disciplina, guiandolos y dirigiéndolos en el campo de batalla. Por lo general, era de la gente común, no de noble cuna, y por lo general se abrió camino hasta el rango de centurión. Y por lo tanto, se le pagó muy bien por el puesto.
Mientras tanto, este soldado romano particular de cierta autoridad estaba en el territorio ocupado de Palestina, en control del pueblo judío conquistado. Mientras que sus soldados lo respetaban y lo seguían, lo más probable es que los judíos lo despreciaran, pero a pesar de su desdén, sabían que podía hacerles la vida aún más miserable, o acabar con ellos por completo, si no hacían lo que les decía.
Y así, en ese escenario, el centurión encuentra a su esclavo enfermo y agonizante. Un hombre de su estatura militar fácilmente podía conseguir otro esclavo, pero su apego a este esclavo, su amor por él, por así decirlo, hizo que el centurión buscara a otro que parecía tener alguna autoridad: Jesús de Nazaret. Le había llegado la noticia de este predicador galileo que andaba sanando a los enfermos, y optó por contactarlo para su esclavo en necesidad.
Entonces, Lucas nos da un momento de enseñanza: mire más de cerca a sus enemigos, a aquellos con los que no está de acuerdo, a aquellos que no le agradan o a aquellos que tienen autoridad sobre usted. Ellos también tienen una humanidad que Dios les ha dado, al igual que ustedes. Y que la humanidad vale la pena salvarla del pecado, vale la pena llevarle la palabra de Dios, vale la pena convertirla y, sí, vale la pena amarla.
Pero hay un atributo más del centurión que Lucas señala: su humildad. El centurión confió en que Jesús podría salvar a su esclavo. Sin embargo, envió a otros a hablar con Jesús, e incluso les pidió que le dijeran a Jesús: "Señor, no te molestes, porque yo no soy digno de que tú entres en mi casa; por eso ni siquiera me atreví a ir personalmente a verte. Basta con que digas una sola palabra y mi criado quedará sano."
Hacemos eco de esas palabras en cada Misa, cuando se nos presenta el Cuerpo de Cristo y se nos invita a participar de Su carne y sangre. No somos dignos, y lo sabemos. El centurión no era digno, y lo sabía, pero sabía que Jesús tenía el poder de salvar. Que nosotros también tengamos esa confianza en nuestro Salvador, y que llevemos esa confianza en el Señor a los demás.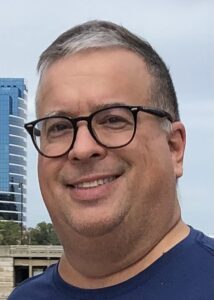 Mike Karpus is a regular guy. He grew up in Michigan's Upper Peninsula, graduated from Michigan State University and works as an editor. He is married to a Catholic school principal, raised two daughters who became Catholic school teachers at points in their careers, and now relishes his two grandchildren, including the older one who is fascinated with learning about his faith. He also has served on a Catholic school board, a pastoral council and a parish stewardship committee. He currently is a lector at Mass, a Knight of Columbus, Adult Faith Formation Committee member and a board member of the local Habitat for Humanity organization. But mostly he's a regular guy.
Feature Image Credit: Juan Pablo Arias, cathopic.com/photo/5394-mirad-al-senor