I am principal of a lovely little Catholic School. Father taught a new Advent song to our students this year. One of the lines is "Advent is a time to wait, not quite time to celebrate."
Today's readings raise our anticipation as the time of waiting is almost over. We look forward to celebrating with exultation and shouts of joy! God is in our midst. It will be a time for songs and praise. The Gospel reading gives us an example of just how we are supposed to celebrate. Having received the gift of God's blessing, Mary doesn't sit around keeping her excitement to herself. She heads out to see her cousin who is also going to have a baby.
While we look to Christmas to mark our Lord's Nativity and birth into the human race, we who live in this time have God with us, present, body, blood, soul and divinity at every Mass. Every Mass is like a little Advent and a little Christmas. We celebrate Advent when we confess our sins and ask for God's forgiveness. Immediately afterward, we respond with the Christmas proclamation of the angels, "Glory to God in the highest and peace to men of goodwill." Right there in the middle of Mass, it is Christmas time all over again! God's love is no longer an abstraction, but present in the flesh of Jesus.
In the Mass, Jesus makes himself available to us in a feast of bread and wine. When we meet at the table of the altar and share the heavenly banquet, we are given all the grace we need to follow Mary's example. We rejoice and should burst out in song over the miracle which has visited us!
At the end of Mass, we are sent. Just as Mary in her joy traveled to share that joy with her cousin Elizabeth, we too are sent to share the gift we have received.
May these last few days of Advent continue to raise your anticipation of Jesus's entrance into our world. Happy Advent, Happy Christmas.
---
Soy directora de una pequeña y encantadora escuela católica. El párroco enseñó una nueva canción de Adviento a nuestros estudiantes este año. Una de las líneas es "Adviento es un tiempo para esperar, no es un tiempo para celebrar".
Las lecturas de hoy elevan nuestra anticipación ya que el tiempo de espera casi ha terminado. ¡Esperamos celebrar con júbilo y gritos de alegría! Dios está en medio de nosotros. Será un tiempo de cantos y alabanzas. La lectura del Evangelio nos da un ejemplo de cómo se supone que debemos celebrar. Habiendo recibido el regalo de la bendición de Dios, María no se queda sentada guardando su emoción para sí misma. Ella se dirige a ver a su prima que también va a tener un bebé.
Mientras miramos a la Navidad para marcar la Natividad y el nacimiento de nuestro Señor en la raza humana, nosotros que vivimos en este tiempo tenemos a Dios con nosotros, presente, en cuerpo, sangre, alma y divinidad en cada Misa. Cada Misa es como un pequeño Adviento y una pequeña navidad. Celebramos el Adviento cuando confesamos nuestros pecados y pedimos el perdón de Dios. Inmediatamente después, respondemos con el anuncio de los ángeles: "Gloria a Dios en las alturas y paz a los hombres de buena voluntad". Justo allí, en medio de la Misa, ¡celebramos la Navidad de nuevo! El amor de Dios ya no es una abstracción, sino que está presente en la carne de Jesús.
En la Misa, Jesús se pone a nuestra disposición en una fiesta de pan y vino. Cuando nos reunimos a la mesa del altar y compartimos el banquete celestial, se nos da toda la gracia que necesitamos para seguir el ejemplo de María. ¡Nos regocijamos y deberíamos estallar en cánticos por el milagro que nos ha visitado!
Al final de la Misa, somos enviados. Así como María en su alegría viajó para compartir esa alegría con su prima Isabel, también nosotros somos enviados a compartir el don que hemos recibido.
Que estos últimos días de Adviento siguen elevando su anticipación por la entrada de Jesús en nuestro mundo. Feliz Adviento y Feliz Navidad.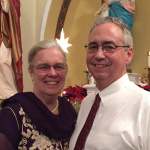 Sheryl is happy to be the number 1 cheerleader and supporter for her husband, Tom who is a candidate for the Permanent Diaconate in the Diocese of Kalamazoo. They are so grateful for the opportunity to grow together in this process. Sheryl's day job is serving her community as the principal for St. Therese Catholic School in Wayland, Michigan. Since every time she thinks she gets life all figured out, she realizes just how far she has to go, St. Rita of Cascia is her go-to Saint for intercession and help. Home includes Carlyn, a very, very goofy Golden Retriever and Lucy, our not-so-little rescue puppy.
Feature Image Credit: Gareth Harper, unsplash.com/photos/dABKxsPTAEk