The Gospel scene of the Annunciation can be seen as a summary of the entire Gospel. It shows the mystery of God becoming man, but also the mystery of man freely cooperating in the saving action of God. Mary stands in place of all of us, modeling the proper response of the creature to her Creator. At God's invitation she answers humbly that she is the handmaid of the Lord, accepting whatever He wills. It is this answer that allows our Redeemer to come to save us, that is the means by which the Word was made flesh to dwell among us, and that changes all of history. Gabriel has come to present God's invitation and receive Mary's response; as soon as she assents, the angel departs from her.
Mary's yes to God reverses Eve's no; her humility begins the undoing of the effects of Eve's pride; her patient waiting for the unfolding of the details of God's will is the counter-move to Eve's reaching for what was not hers to take. Because of Mary's proper response to God's invitation we see the glorious result: God with us, God within us, God among us, God at work in the world.
Mary doesn't receive in order to enrich herself or to hide away enjoying the Gift in secret – she receives the Lord so that she can bring Him to others, and the first thing she does is go "in haste" to her cousin Elizabeth. She is the first "Christ-bearer," and she carries the Light into the darkness, carries Love into the indifference, carries Life into a world deadened by sin. She brings forth from her own body the Food that will sustain us on our journey Home, the Truth that guides our way.
We are right in the middle of the seven "O Antiphons," those verses prayed at Evening Prayer every Advent since the 700's, which we all know from the hymn O Come, O Come, Emmanuel: "O Key of David, opening the gates of God's eternal Kingdom: come and free the prisoners of darkness!" The Annunciation shows us the very beginning of this freedom, the coming of the Key that will open the gates sealed against sinful humanity since Adam and Eve, the coming of the Light that conquers every darkness. But the Messiah comes to win the victory not with violent clashing of swords and mighty trumpets, but with humility, obedience, and absolute steadfastness – He wins the victory by refusing to take any shortcuts or back down, by teaching and serving, all the way to the utter outpouring of Himself. He conquers all, one heart at a time, by giving Himself.
And it all begins right here, in the womb of the sinless young maiden, who will give birth quietly, in the dark, in the cold, unnoticed. Her yes to the angel reaches all the way to that abject poverty and humility, and all the way to the Cross, the throne of the Redeemer King born for us on Christmas.
---
La escena evangélica de la Anunciación puede verse como un resumen de todo el Evangelio. Muestra el misterio de Dios que se hace hombre, pero también el misterio del hombre cooperando libremente a la acción salvífica de Dios. María está en el lugar de todos nosotros, modelando la respuesta propia de la criatura a su Creador. A la invitación de Dios, responde humildemente que es la esclava del Señor, aceptando lo que Él desea. Es esta respuesta la que permite que nuestro Redentor venga a salvarnos, ese es el medio por el cual el Verbo se hizo carne para habitar entre nosotros, y eso cambia toda la historia. Gabriel ha venido a presentar la invitación de Dios y recibir la respuesta de María; tan pronto como ella asiente, el ángel se aparta de ella.
El "sí" de María a Dios invierte el "no" de Eva; su humildad comienza a deshacer los efectos del orgullo de Eva; su paciente espera por el desarrollo de los detalles de la voluntad de Dios es el contraataque al intento de Eva de alcanzar lo que no le correspondía a ella tomar. Debido a la respuesta adecuada de María a la invitación de Dios, vemos el resultado glorioso: Dios con nosotros, Dios dentro de nosotros, Dios entre nosotros, Dios obrando en el mundo.
María no recibe para enriquecerse o para esconderse disfrutando del Don en secreto, recibe al Señor para llevarlo a los demás, y lo primero que hace es ir "a toda prisa" a visitar a su prima Isabel. Ella es la primera "portadora de Cristo", y lleva la Luz a las tinieblas, lleva el Amor a la indiferencia, lleva la Vida a un mundo adormecido por el pecado. Ella saca de su propio cuerpo el Alimento que nos sostendrá en nuestro viaje a Casa, la Verdad que guía nuestro camino.
Estamos justo en medio de los siete días cuando rezamos los antífonas navideñas, los versos que hemos rezado todos los Advientos desde los años 700, que todos conocemos por el himno Oh Ven, Oh Ven, Emmanuel: "Oh Llave de David, que abres las puertas del Reino eterno de Dios: ¡ven y libera a los prisioneros de las tinieblas!" La Anunciación nos muestra el comienzo mismo de esta libertad, la venida de la Llave que abrirá las puertas selladas contra la humanidad pecadora desde Adán y Eva, la venida de la Luz que vence toda oscuridad. Pero el Mesías viene a ganar la victoria no con choque violento de espadas y poderosas trompetas, sino con humildad, obediencia y firmeza absoluta. Él gana la victoria al negarse a tomar atajos o retroceder, enseñando y sirviendo, todo el camino hasta la efusión total de sí mismo. Conquista todo, un corazón a la vez, dándose a sí mismo.
Y todo comienza aquí mismo, en el vientre de la joven doncella sin pecado, que dará a luz en silencio, en la oscuridad, en el frío, sin ser notada. Su "sí" al ángel llega hasta esa abyecta pobreza y humildad, y hasta la Cruz, el trono del Rey Redentor nacido para nosotros en la Navidad.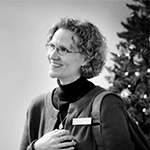 Kathryn Mulderink, MA, is married to Robert, Station Manager for Holy Family Radio. Together they have seven children (including Father Rob), and seven grandchildren. She is President of the local community of Secular Discalced Carmelites and has published five books and many articles. Over the last 30 years, she has worked as a teacher, headmistress, catechist, Pastoral Associate, and DRE, and as a writer and voice talent for Catholic Radio. Currently, she serves the Church by writing and speaking, and by collaborating with various parishes and to lead others to encounter Christ and engage their faith. Her website is www.KathrynTherese.com
Feature Image Credit: tinvalro, cathopic.com/photo/15890-9-months